So you're joining us for the most anticipated Product Management event in Europe: ProductCon London 2022! A full event agenda can be found here.And as a reminder, ProductCon London is happening on September 8.
In the meantime, we've put together a simple guide with recommendations on travel, accommodations, and dining. In this guide, you'll find:
When you're ready, here are all of the great things to do near ProductCon London:
This year, ProductCon London will be hosted at the Barbican Centre. The full address is: Silk St, Barbican, London EC2Y 8DS, United Kingdom. You can find more details on the location, including tips for getting there, by visiting their website here.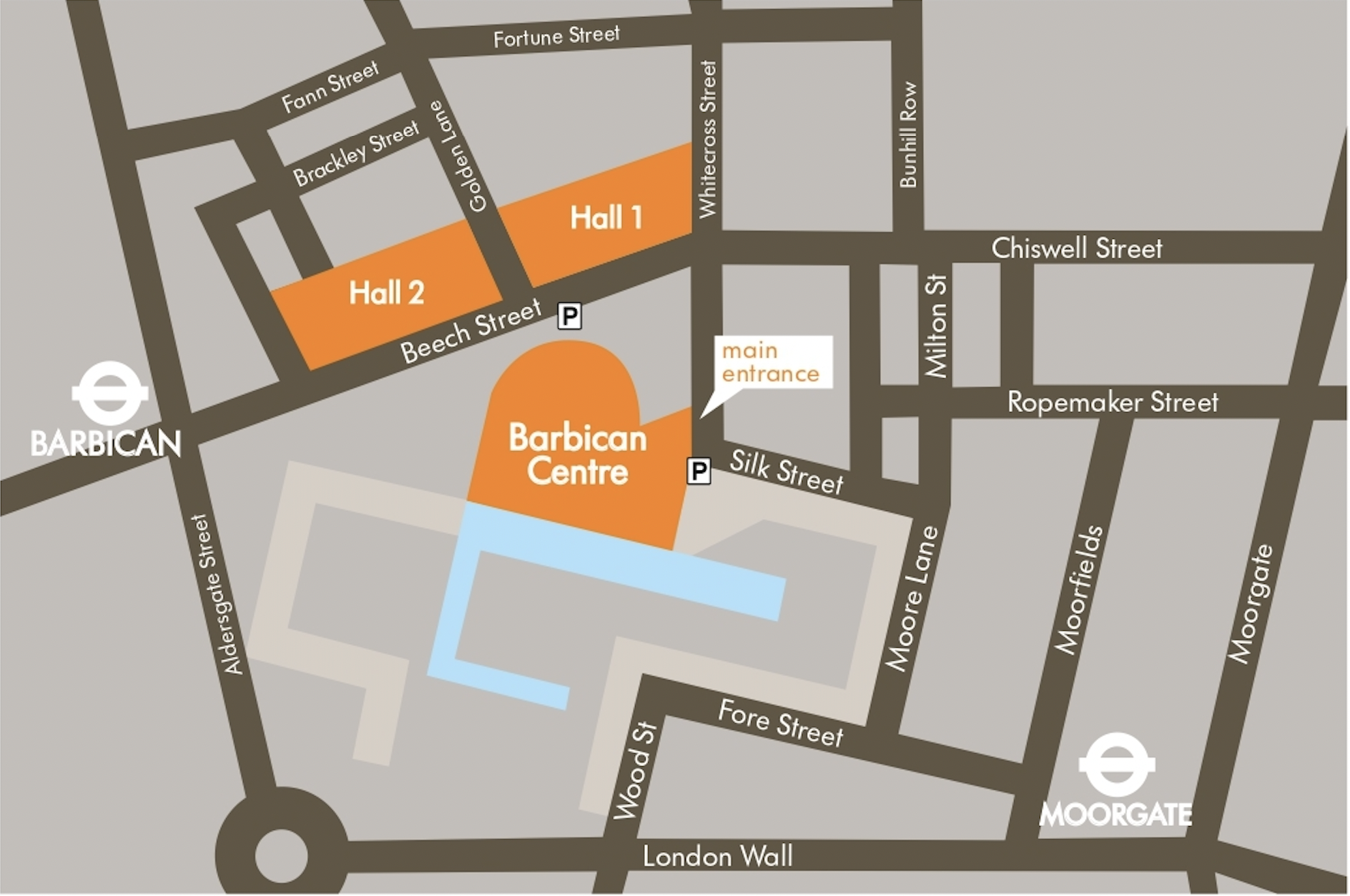 Don't have your tickets yet?
You can purchase tickets for the in-person and live event by visiting our website here. We're expecting our in-person tickets to sell out fast, so make sure you claim yours today!
So, you've decided to go to ProductCon London and now need a place to rest your head after a full day of learning and networking. We've got you! Below is a curated list of accommodations, most within an hour commute of the Barbican Center, that could be your home-away-from-home. Please note: we've used TripAdvisor to determine the pricing scale for each property.
South Place Hotel ($$)
Complete with a spa, three bars and lounges, and Michelin-star restaurant, this East London hotel gives off James Bond vibes.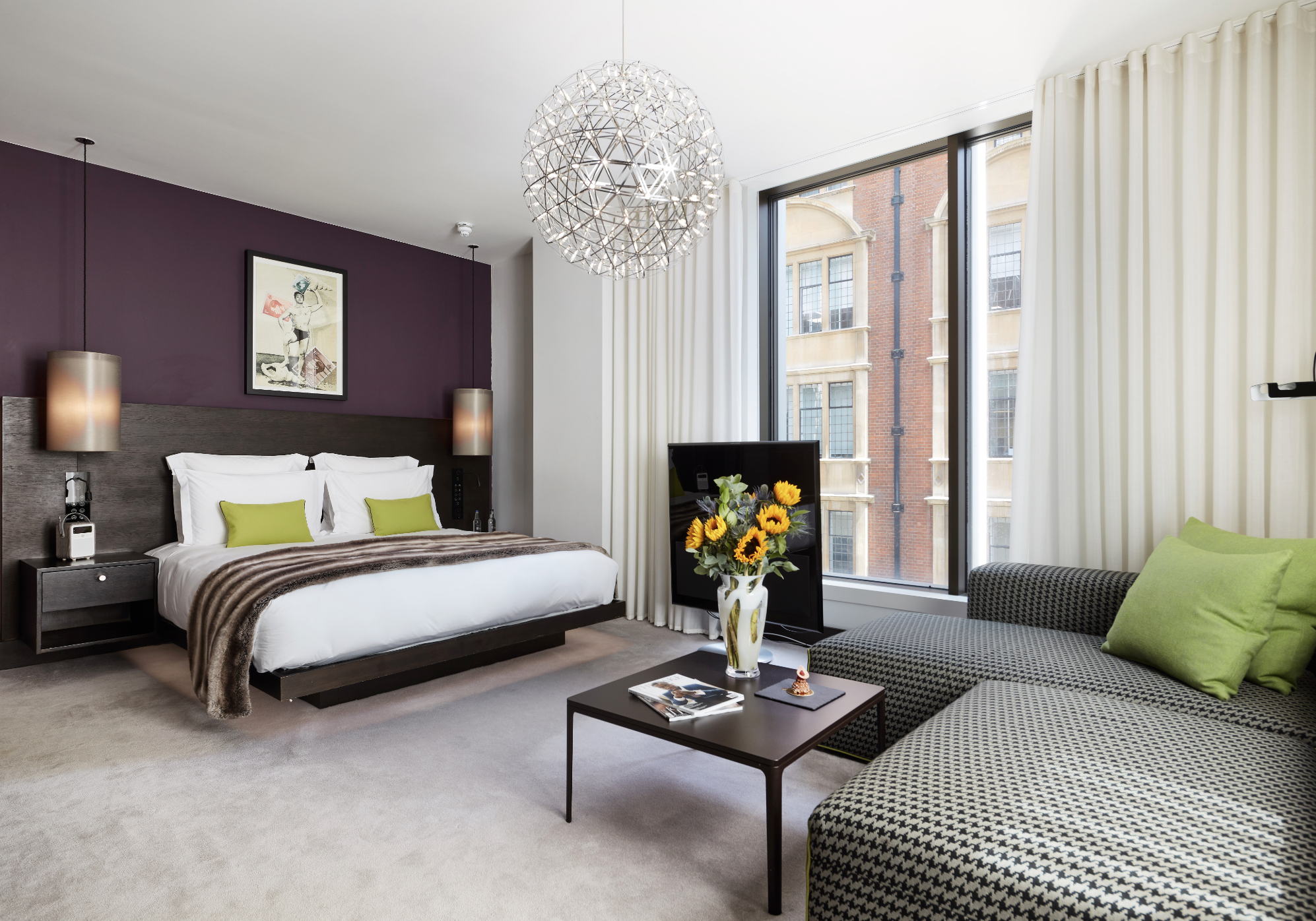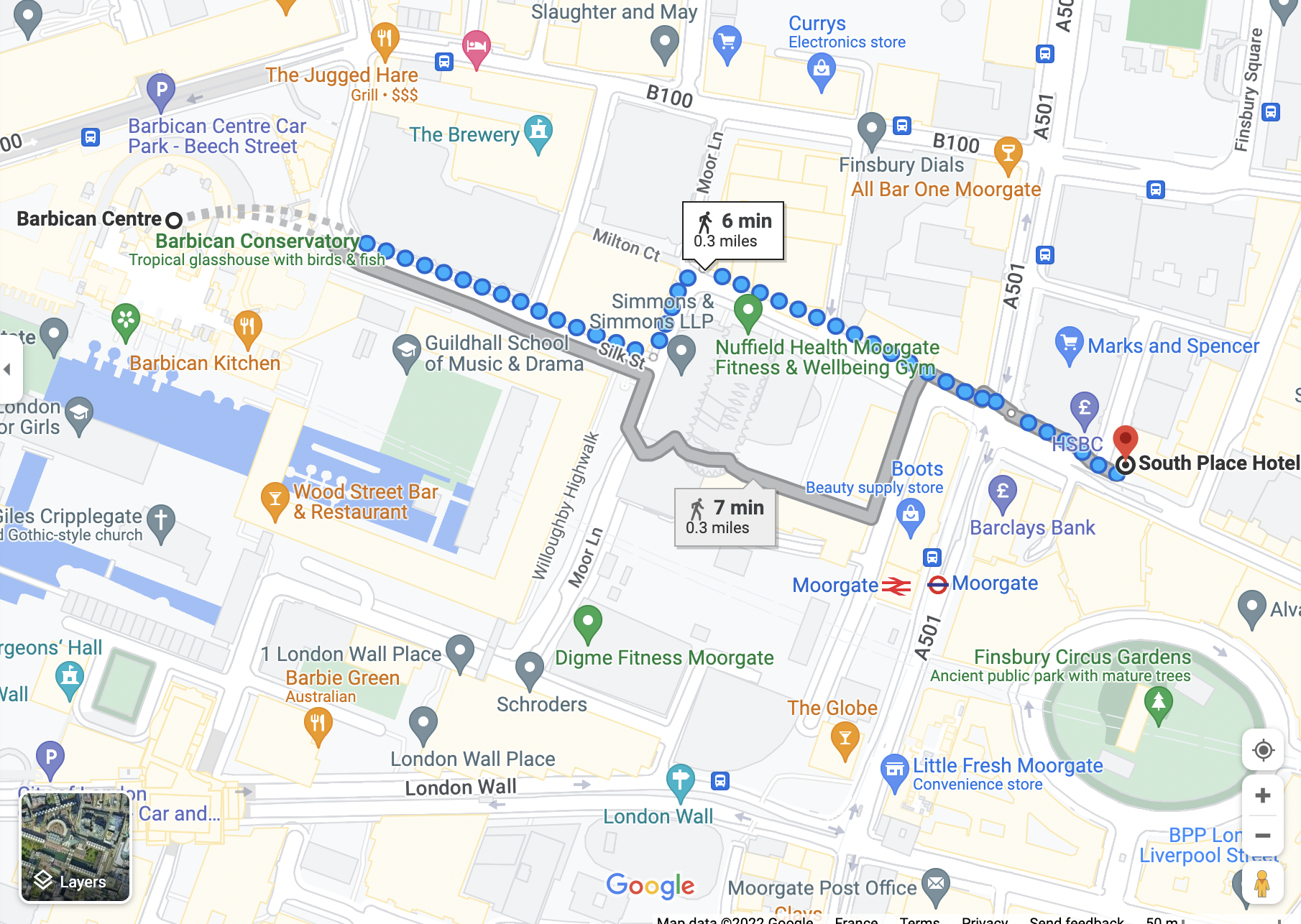 You can find the hotel at 3 South Place, London EC2M 2AF England, just a 6 minute walk from the Barbican Centre. You can reserve your stay by visiting their website here.
The Rookery ($$)
If elegant, Georgian-style decor and boutique hotels are your thing, The Rookery is the perfect stay for you.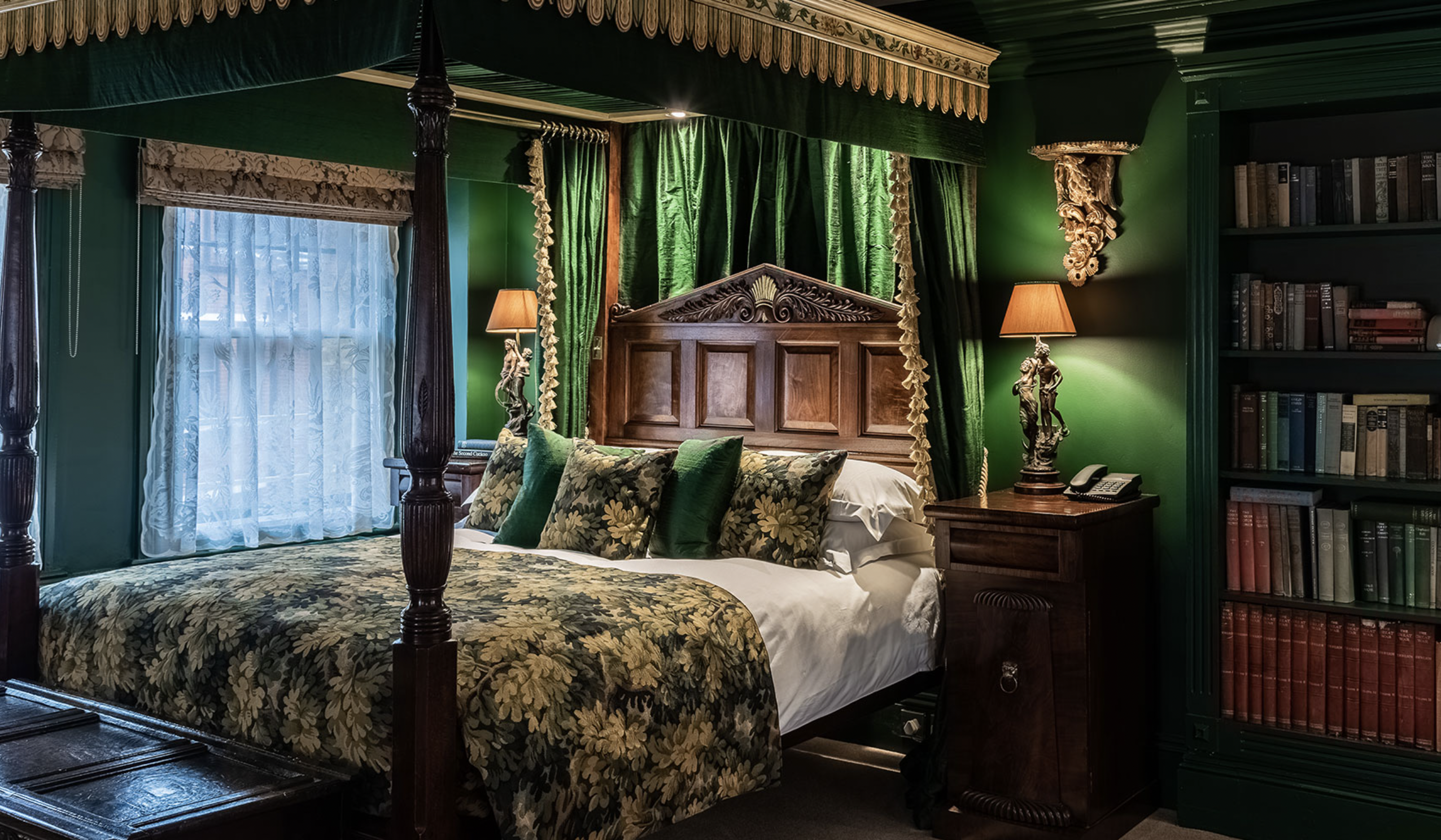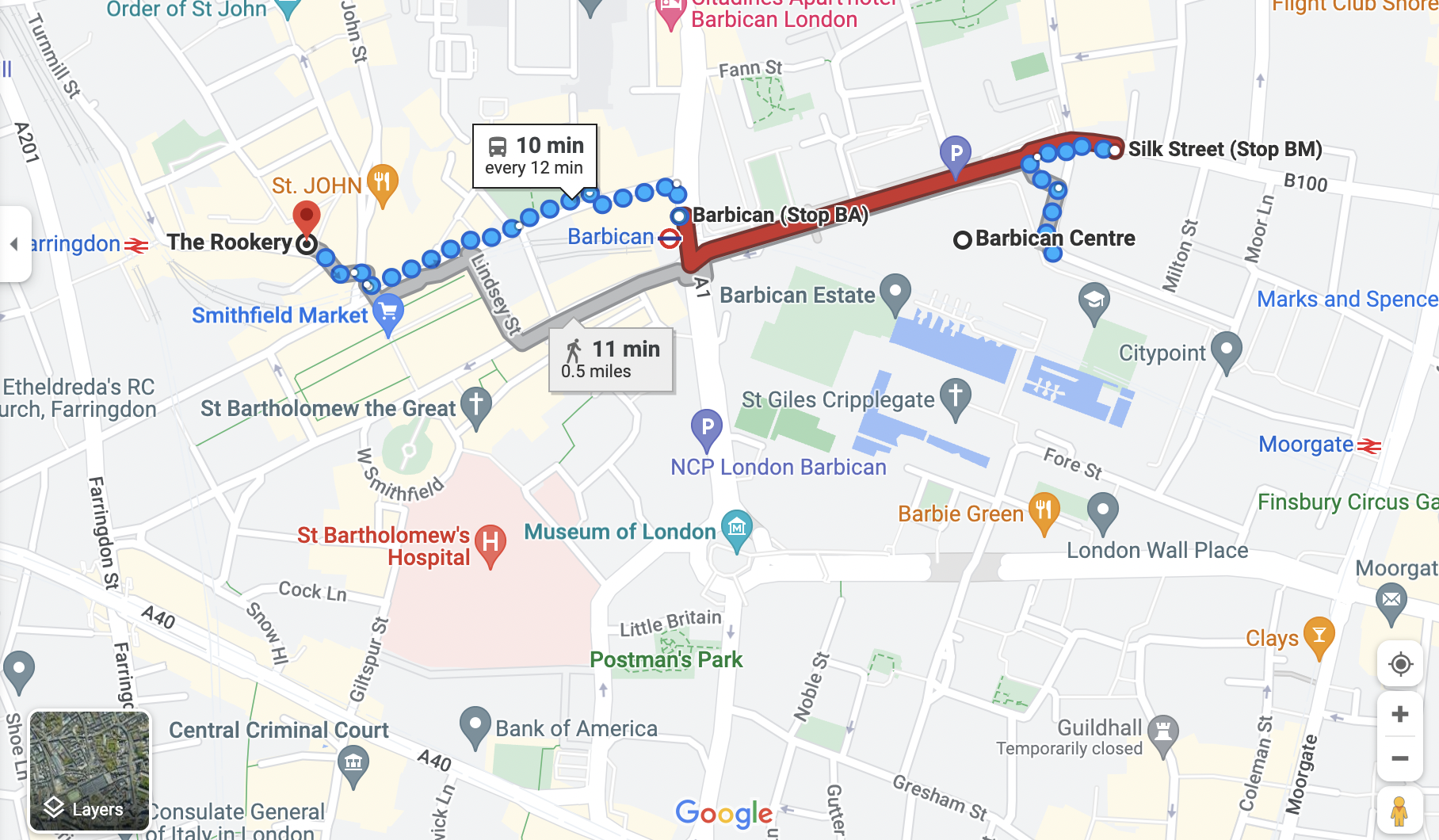 Located in Clerkenwell at 12 Peter's Lane Cowcross Street, London EC1M 6DS England, the Rookery is just an 11 minute walk from Barbican Centre.You can reserve your stay by visiting their website here.
Apex London Wall Hotel ($$)
With rooftop views and balconies available, this modern hotel  located in London Square Mile is the perfect place to pass the long September evenings in London.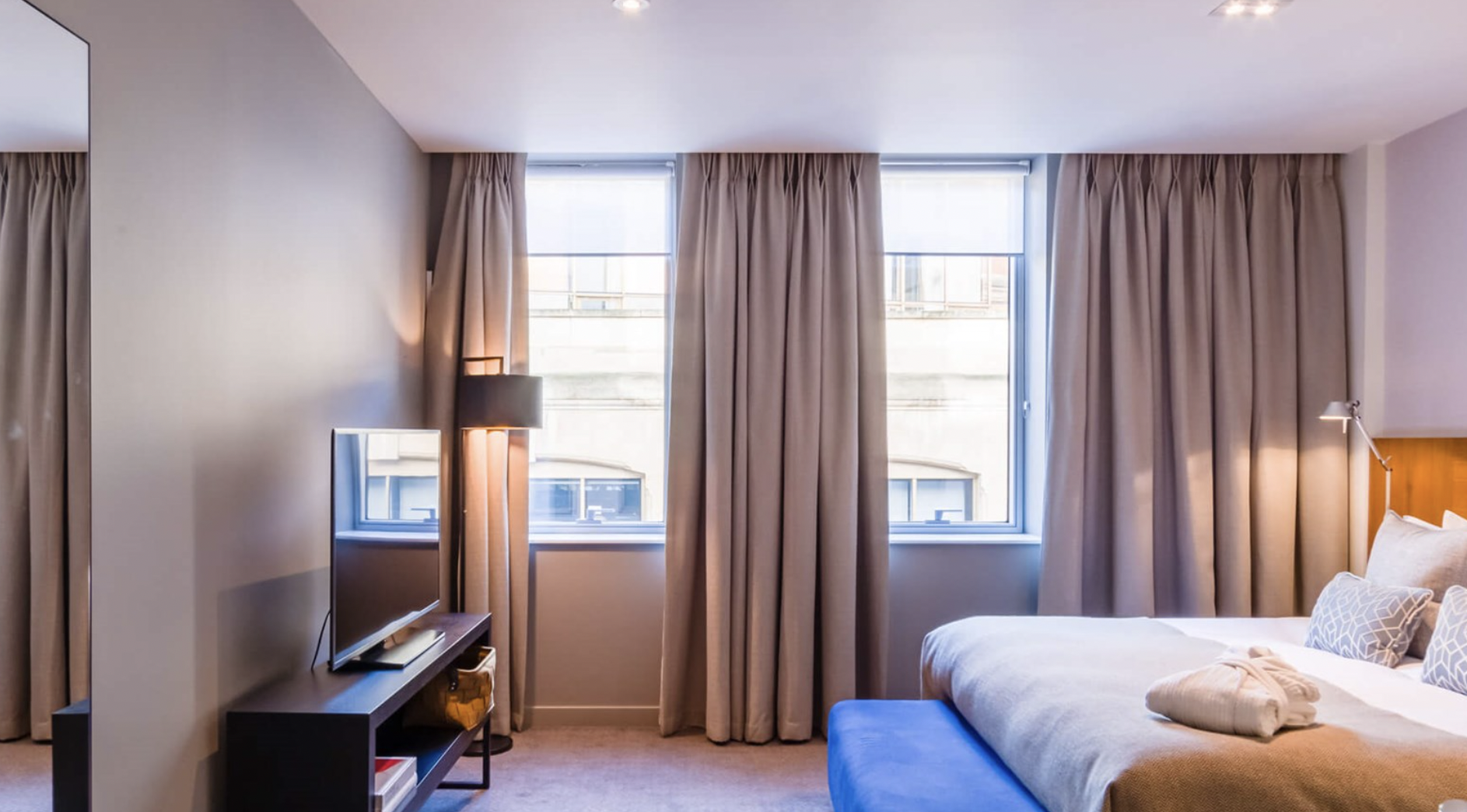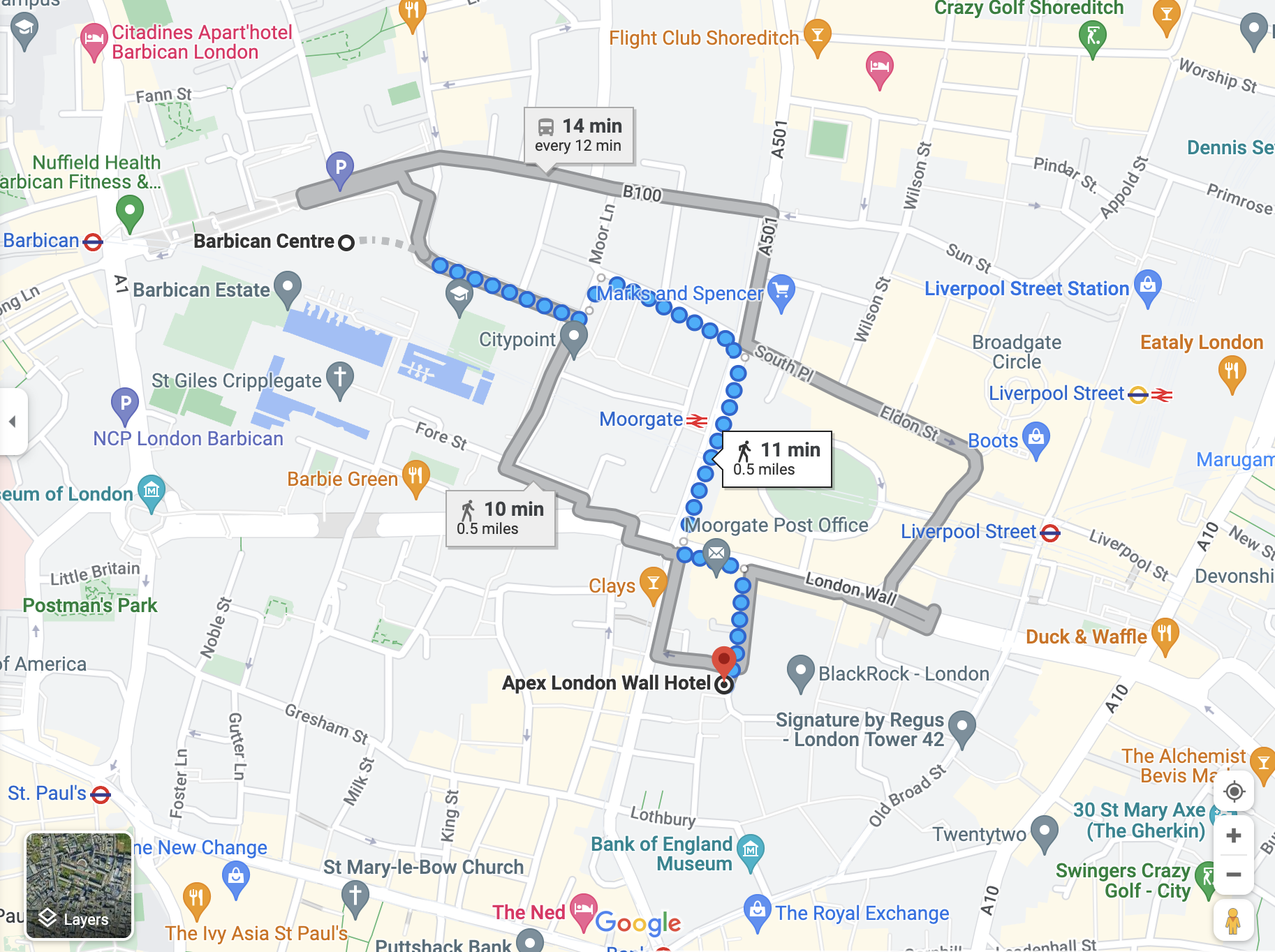 An 11 minute walk from Barbican Centre, the Apex London Wall Hotel is located at 7-9 Copthall Avenue, London EC2R 7NJ England. You can reserve your stay by visiting their website here.
Malmaison London ($$)
With a restaurant catering to carnivores and vegetarians alike, and a cocktail bar to wind down at, this boutique hotel is a cozy and welcoming home-away-from-home.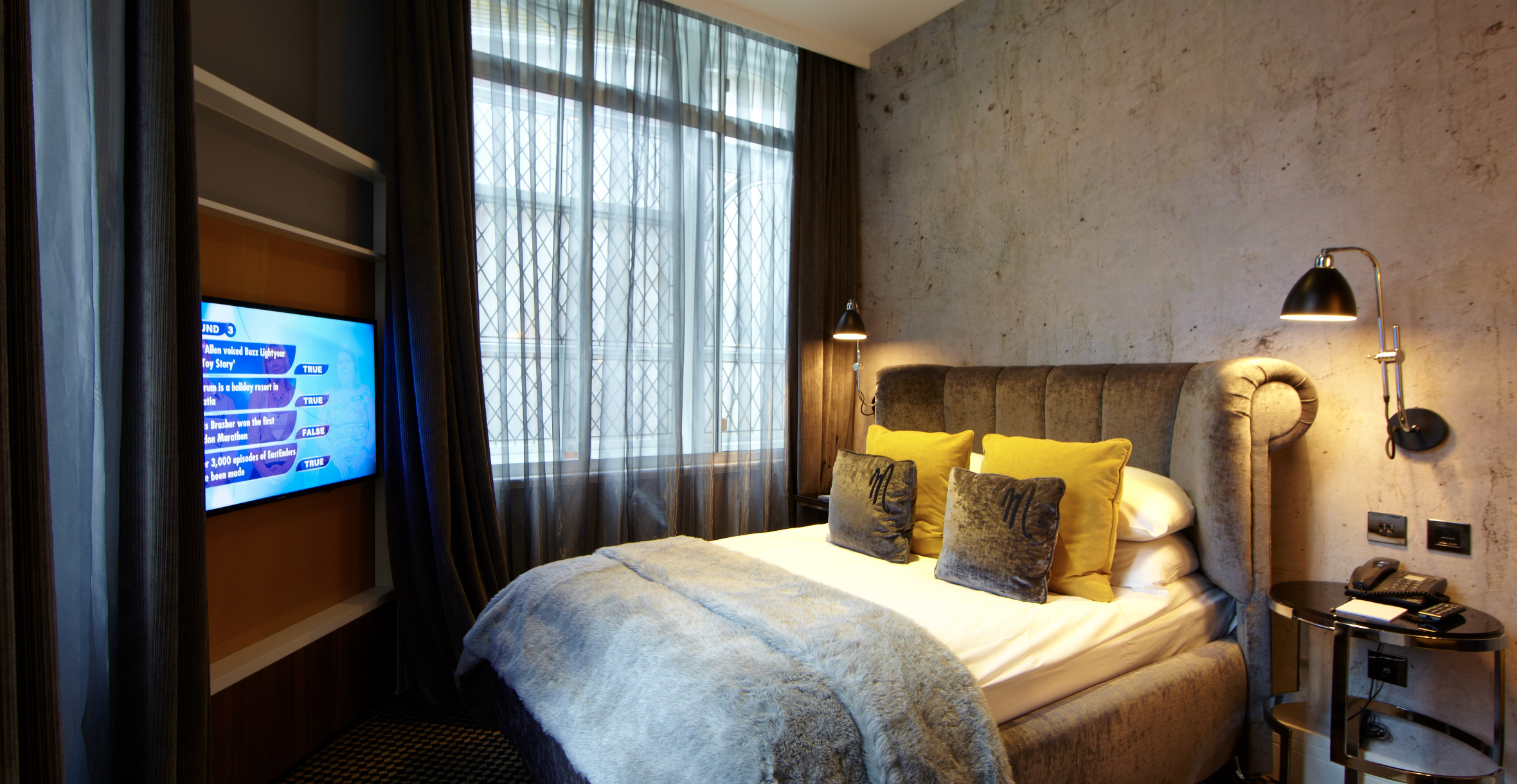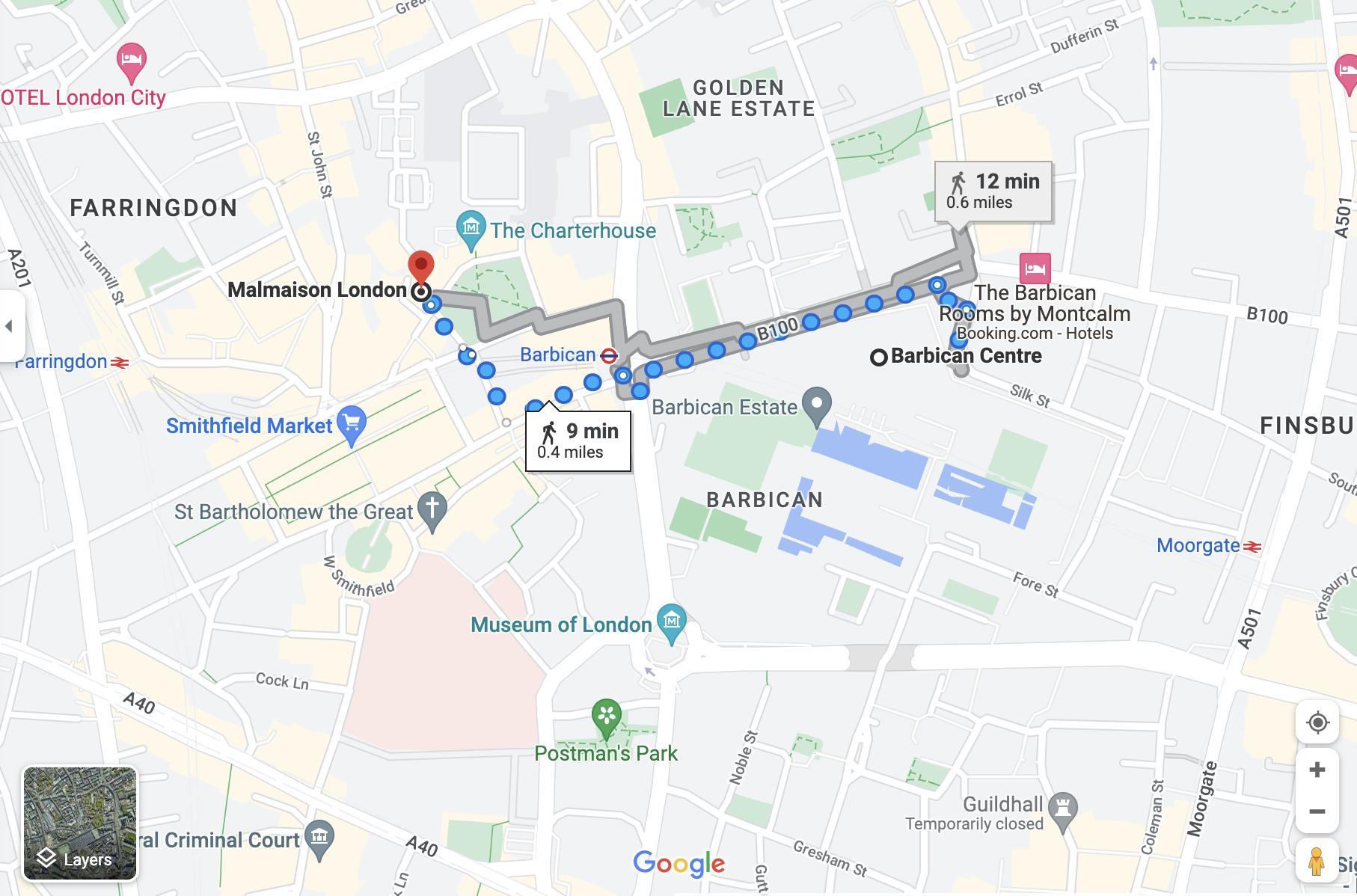 Located in Farringdon at 18-21 Charterhouse Square, London EC1M 3ET England, this hotel is only a 9 minute walk to Barbican Centre.You can reserve your stay by visiting their website here.
citizenM London Shoreditch Hotel ($$)
If you like modern lighting, huge beds, and cute marketing, citizenM is truly an experience that's changing the way we see hotel stays.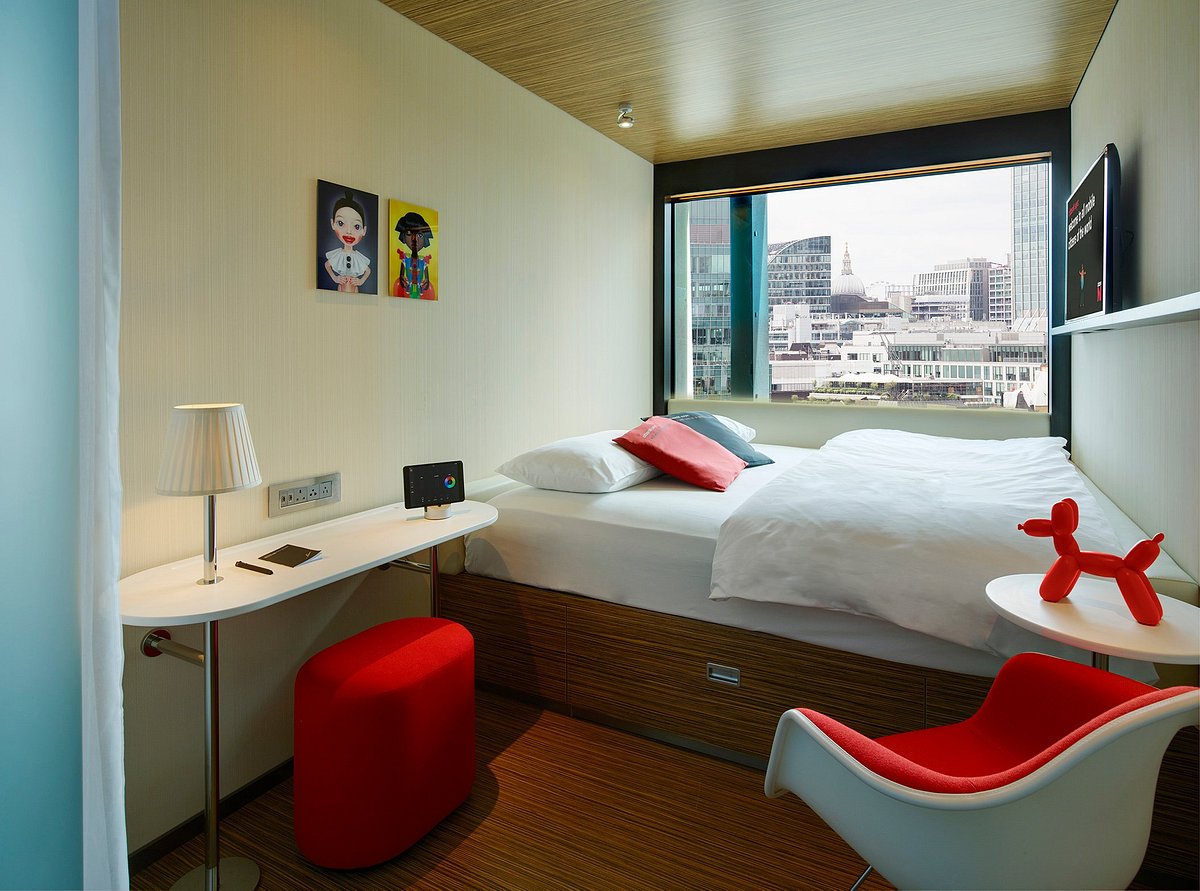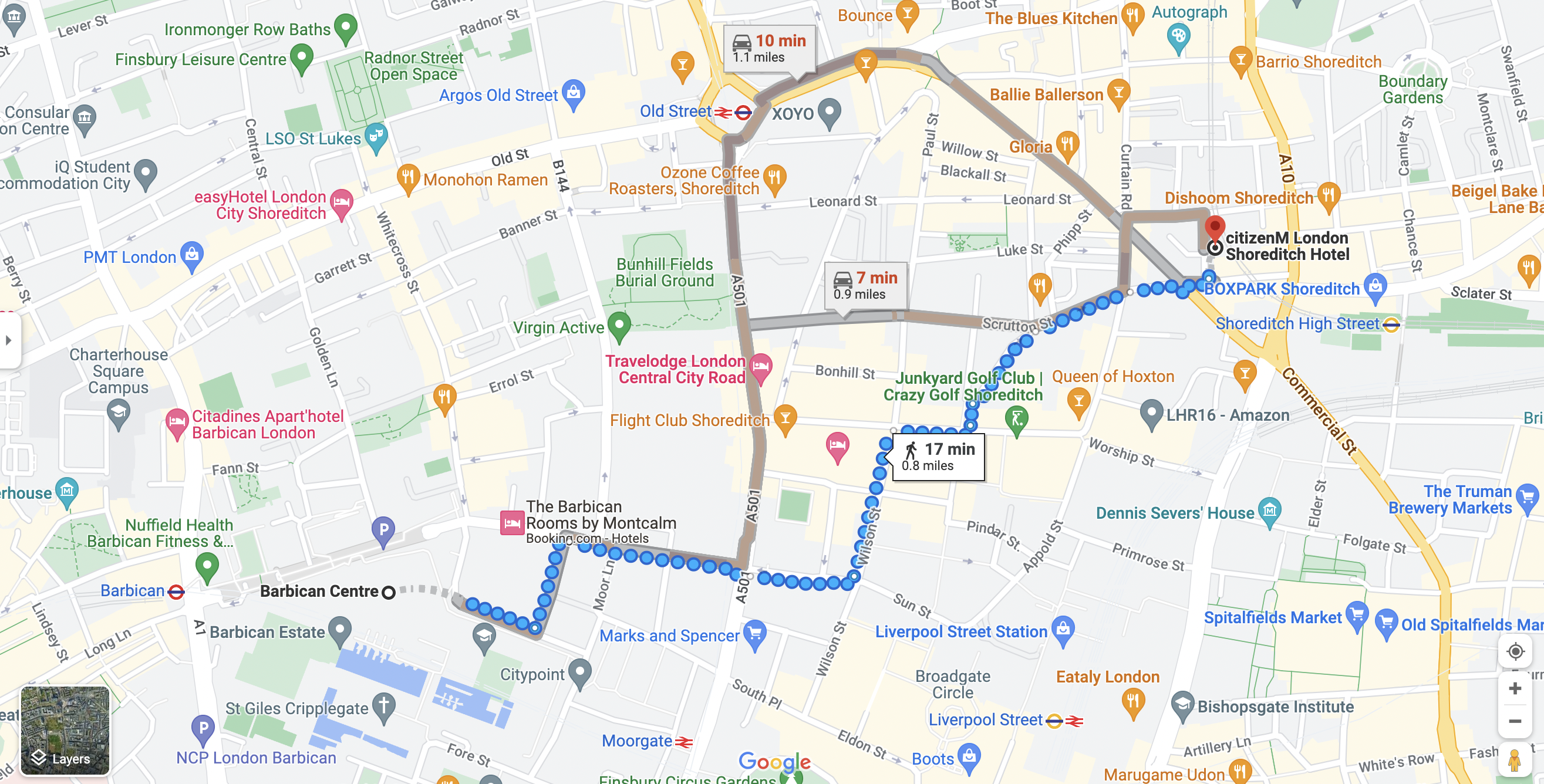 Part of the Shoreditch neighbourhood, citizenM London is located at 6 Holywell Lane Shoreditch, London EC2A 3ET England. A slightly longer walk, it will take you 17 minutes to get to Barbican Centre from this hotel. You can reserve your stay by visiting their website here.
Hart Shoreditch Hotel London ($$)
Put on by the Hilton, the Hart Shoreditch Hotel promises to be every bit as luxurious as the popular chain.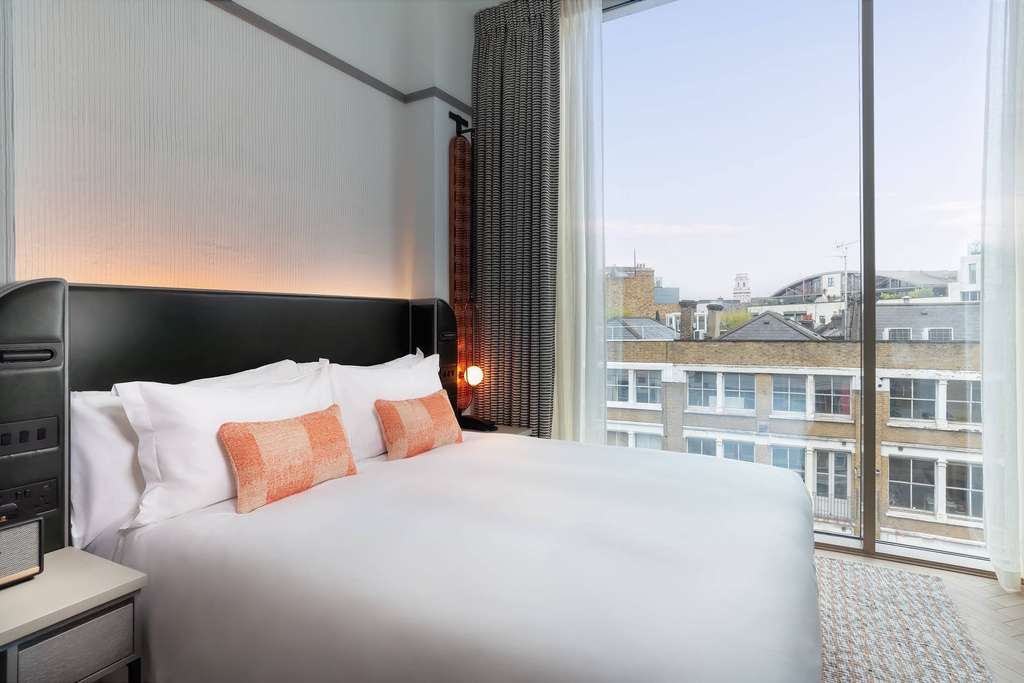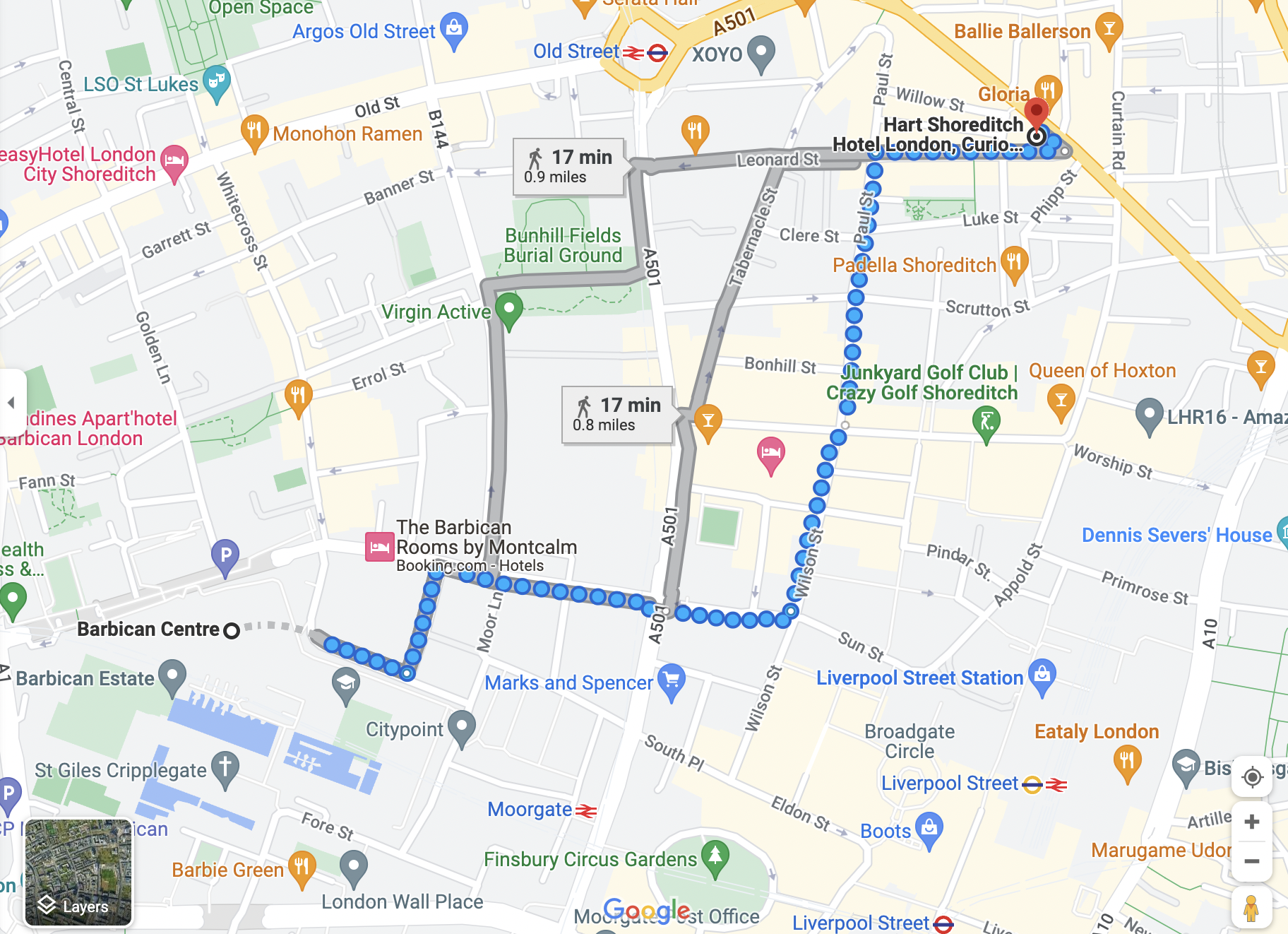 Another stay in the Shoreditch neighbourhood, this hotel is located at 61-67 Great Eastern Street Shoreditch, London EC2A 3HU England, just 17 minutes to Barbican Centre.You can reserve your stay by visiting their website here.
The Zetter Hotel ($$)
Maybe we've saved the best for last, but this contemporary warehouse-turned-boutique-hotel location is a must-see when visiting London.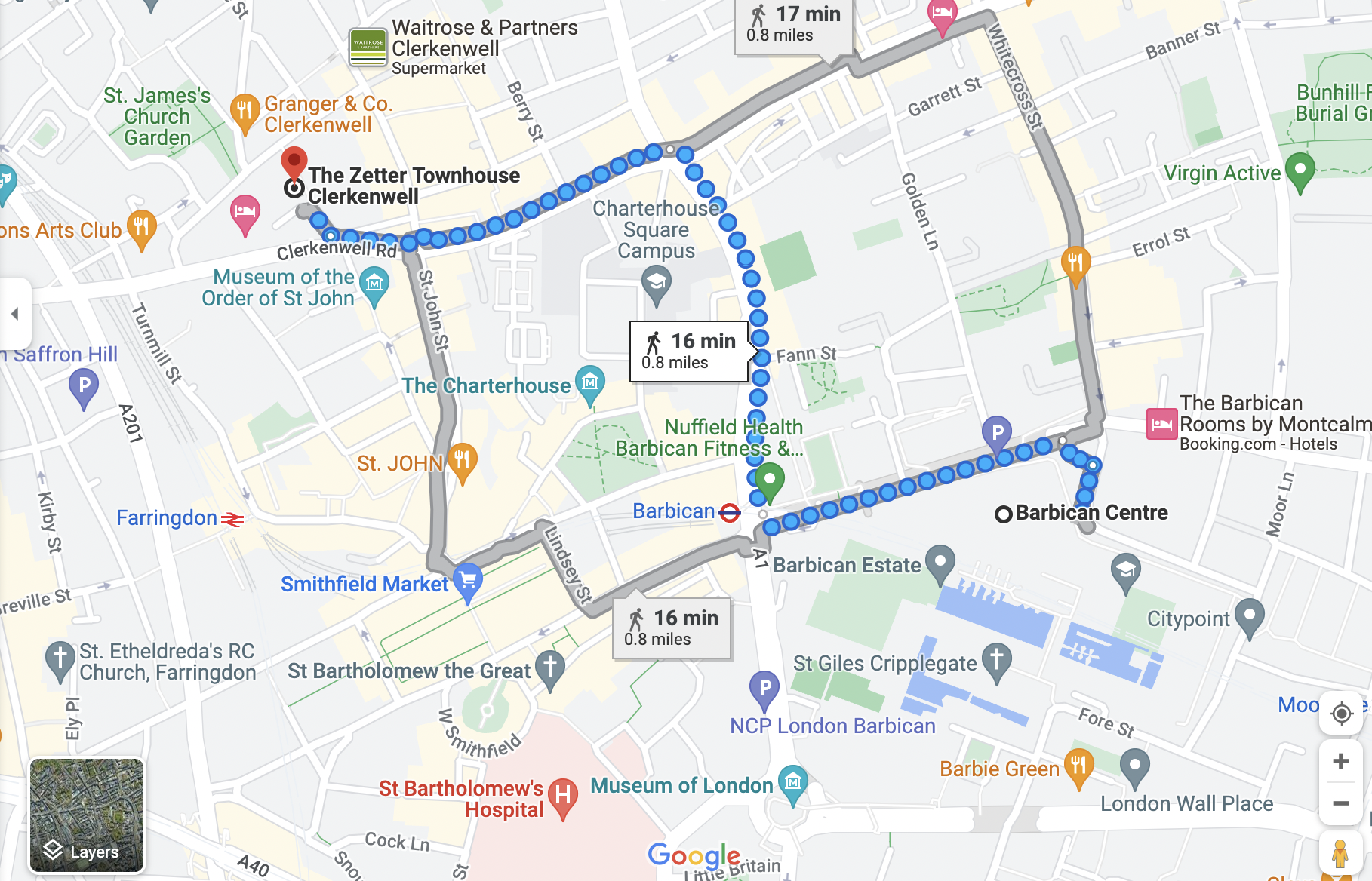 Located at 86-88 Clerkenwell Road, London EC1M 5RJ England, this hotel is a 16 minute walk from Barbican Centre. You can reserve your stay by visiting their website here.
At ProductCon, we're going have a lunch break from 12:00 to 13:00 (see full agenda here).
If you don't have lunch included in your ticket (this will be specified on your attendee badge), here are some great options of places you can go to grab food around the Barbican:
Pret A Manger ($)
Pret A Manger, is a chain that offers fresh food handmade in their shop's kitchens throughout the day. They have a great selection of sandwiches, organic coffee, soups, and salads. An extra plus? Anything that they don't sell goes to charity!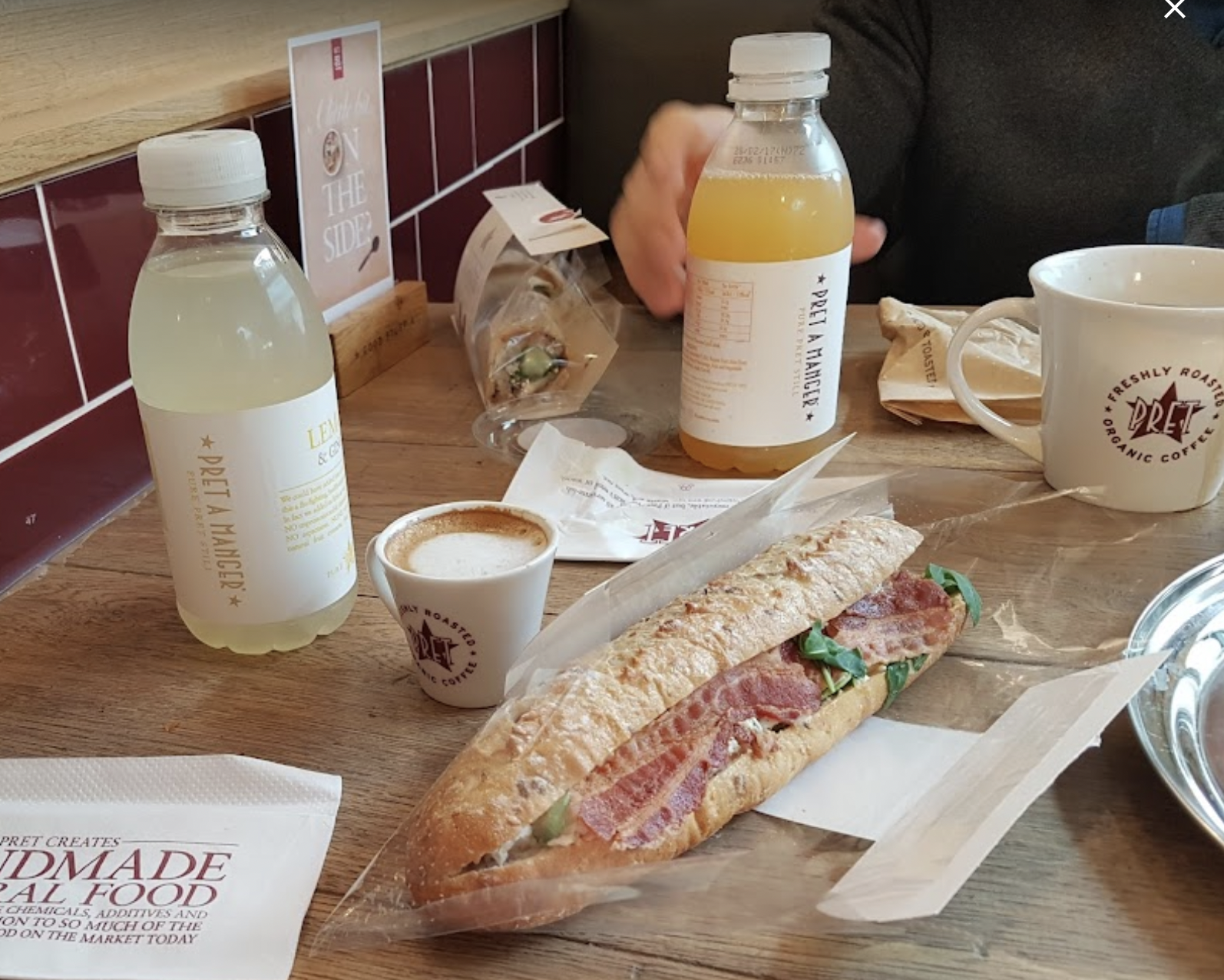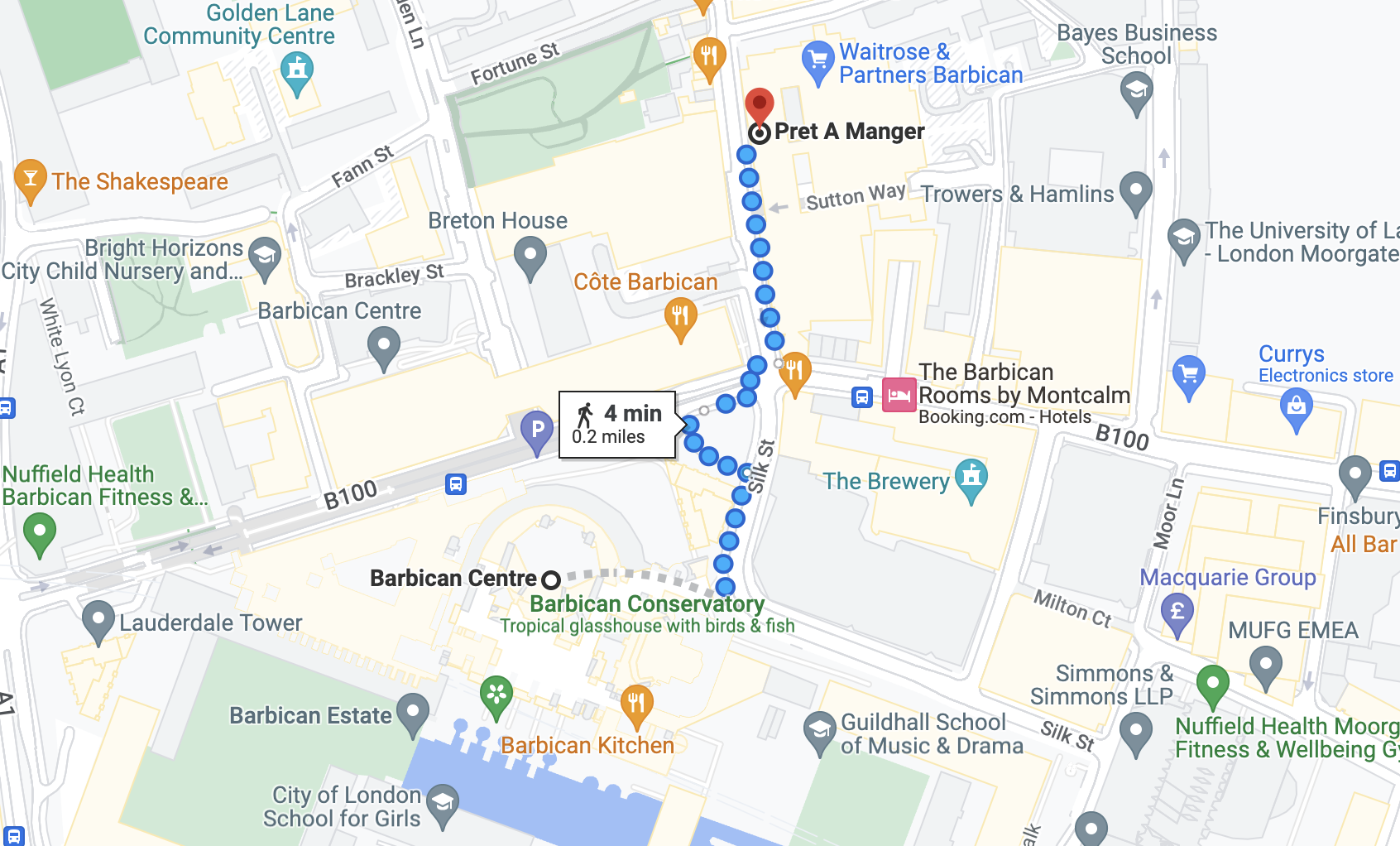 Where: Pret A Manger, Unit 1, City Shopping Centre, Whitecross St, London EC1Y 8NX, United Kingdom Google Maps link
Whitecross Market ($)
Weekday outdoor market lined with stalls offering a variety of street eats, from meat pies to pizza. Also plenty of veggie options.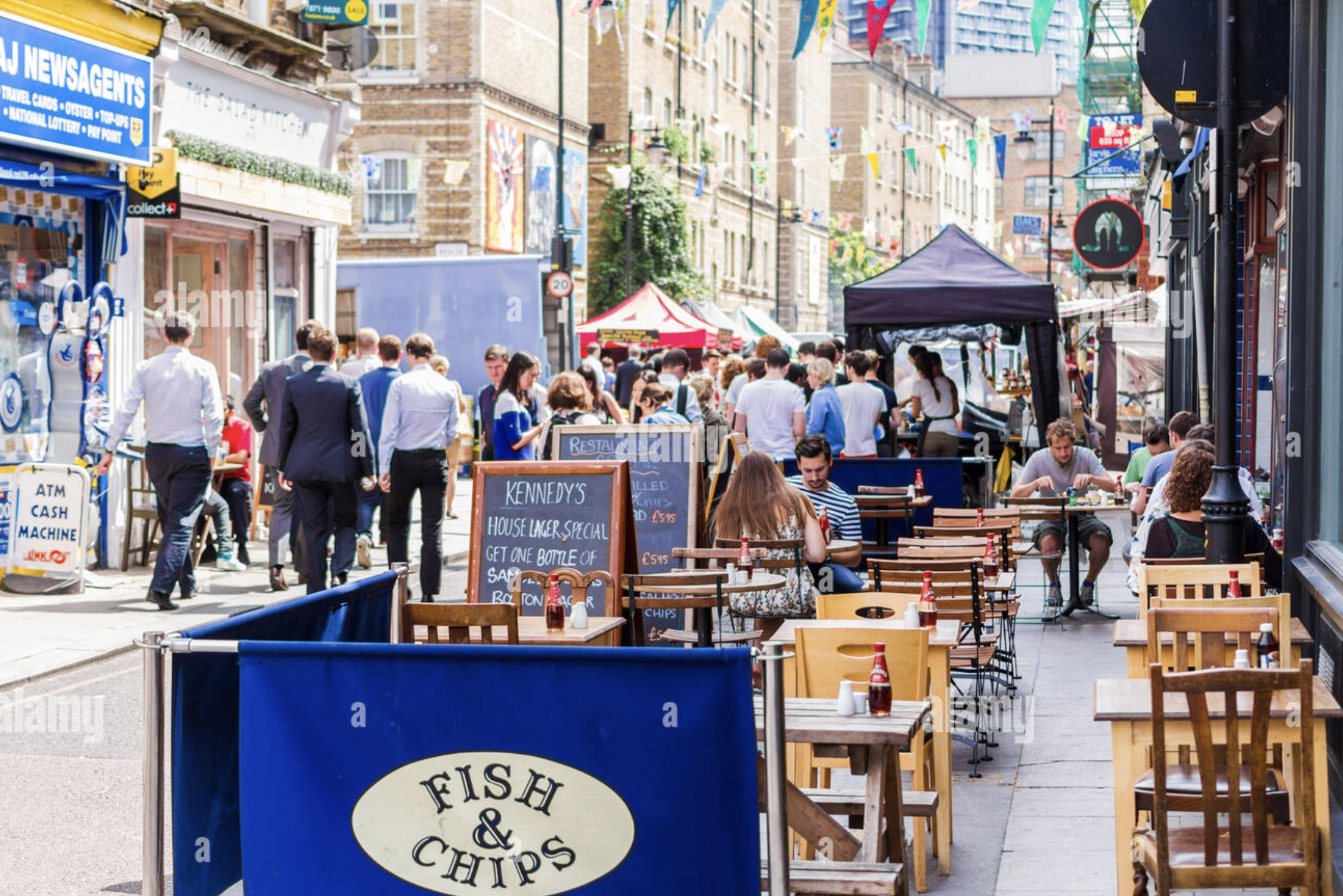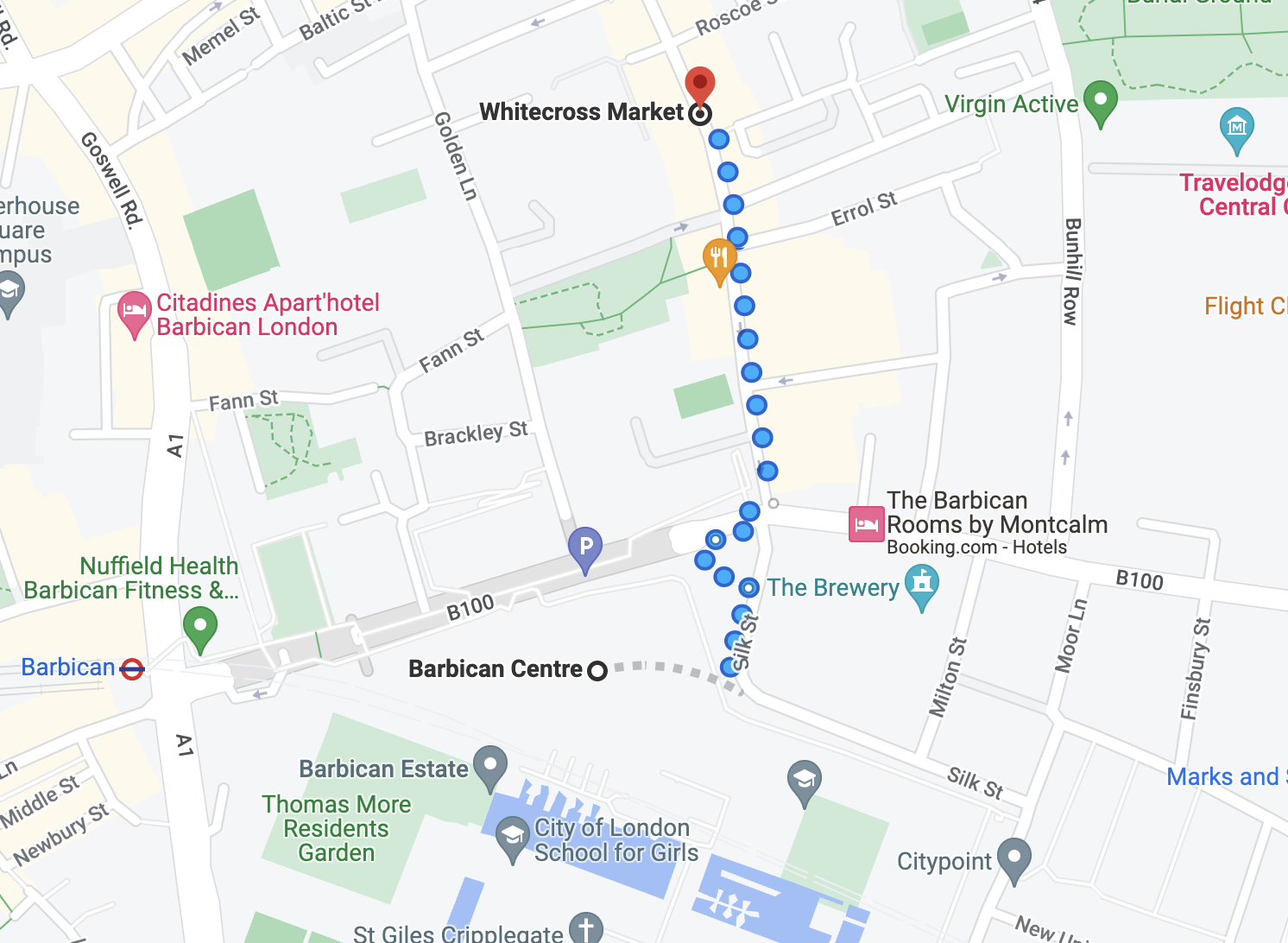 Where: GWF4+6R London, United Kingdom Google maps link
Barbican Food & Drinks ($ – $$)
Barbican itself has plenty of places for you to relax and replenish, from coffee and cake to wood-fired pizzas and full pre-theatre menus. You can see exquisite restaurants, bars and picnic gardens available at the Barbican on their website here.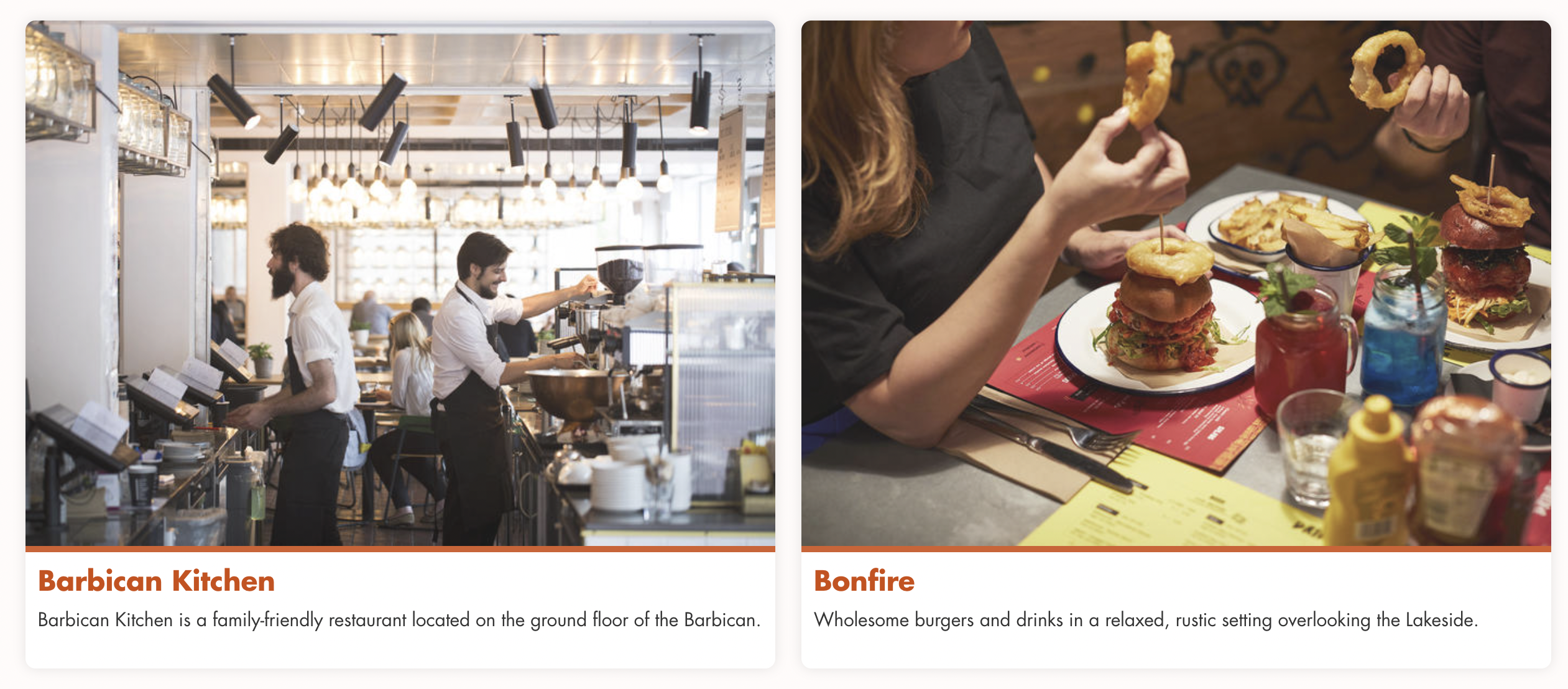 Where: Barbican, Silk St London
Fare ($$)
Italian Restaurant. Industrial-chic, bi-level spot offering pizza and sharable plates plus coffee, wine & cocktails.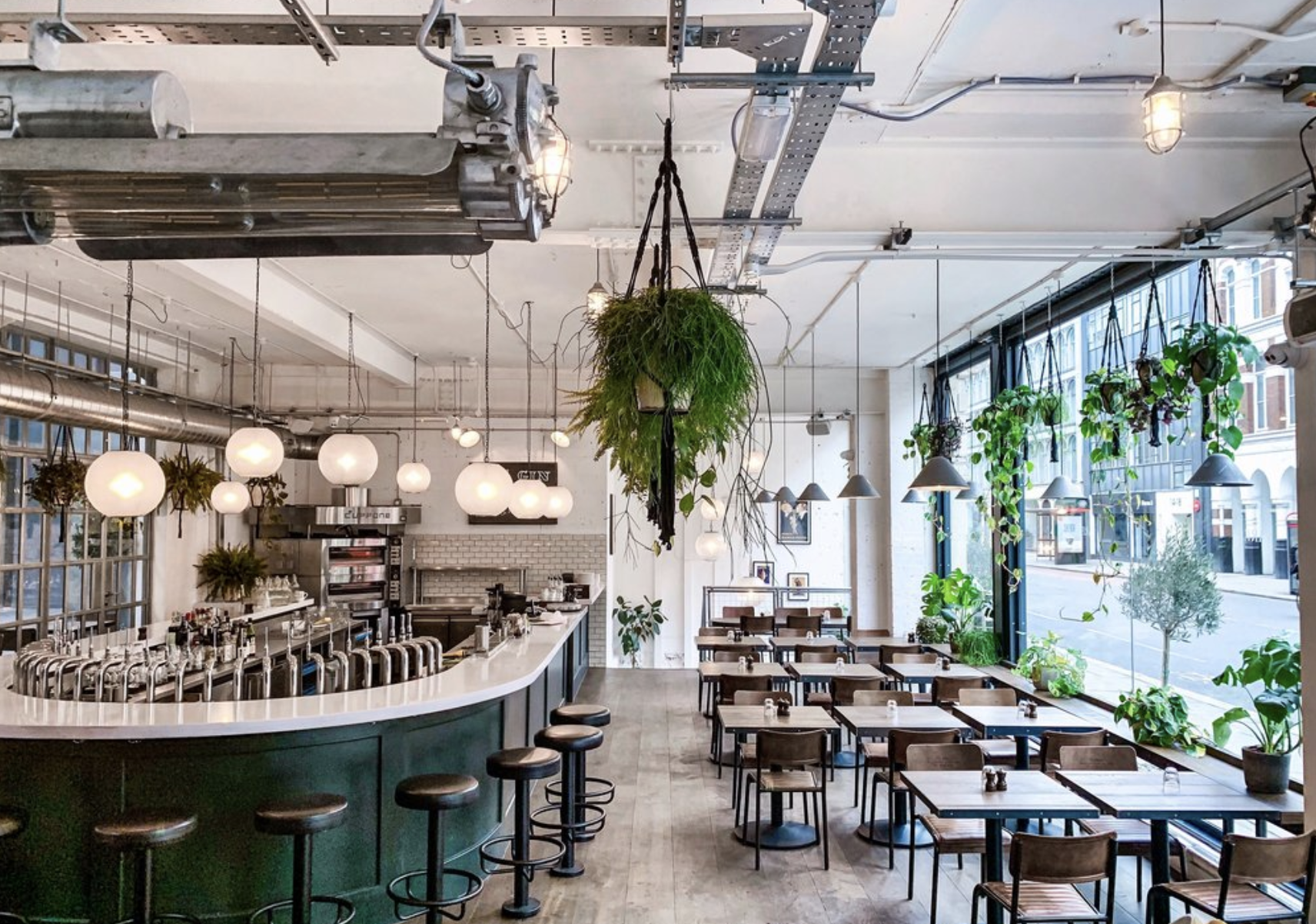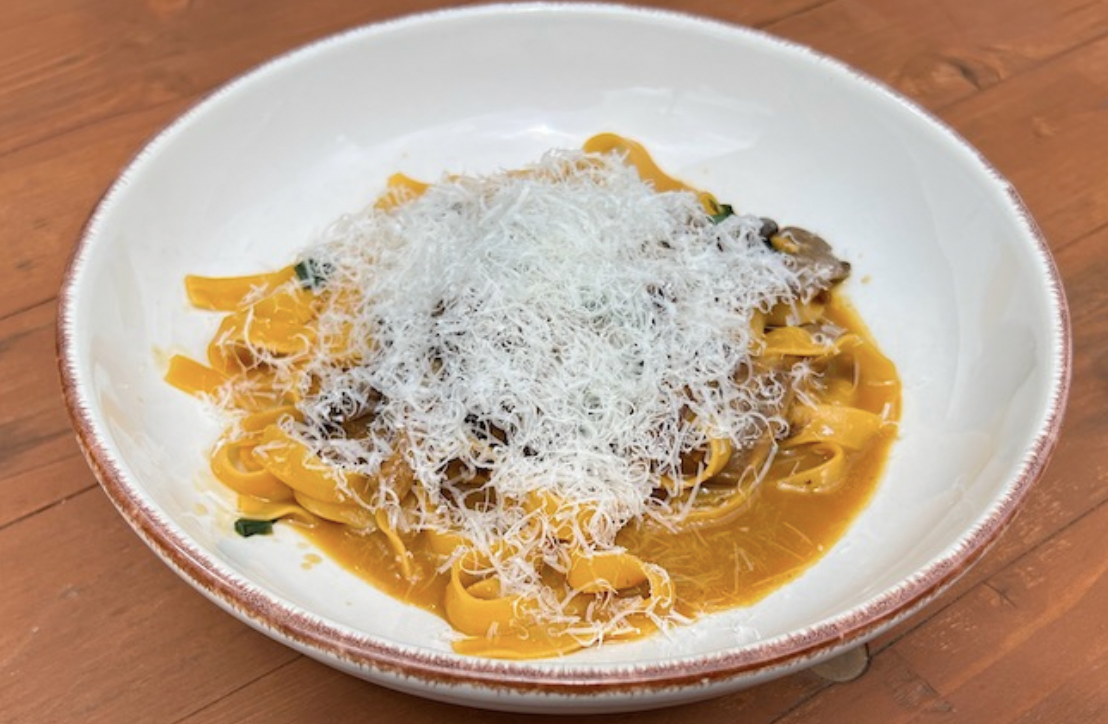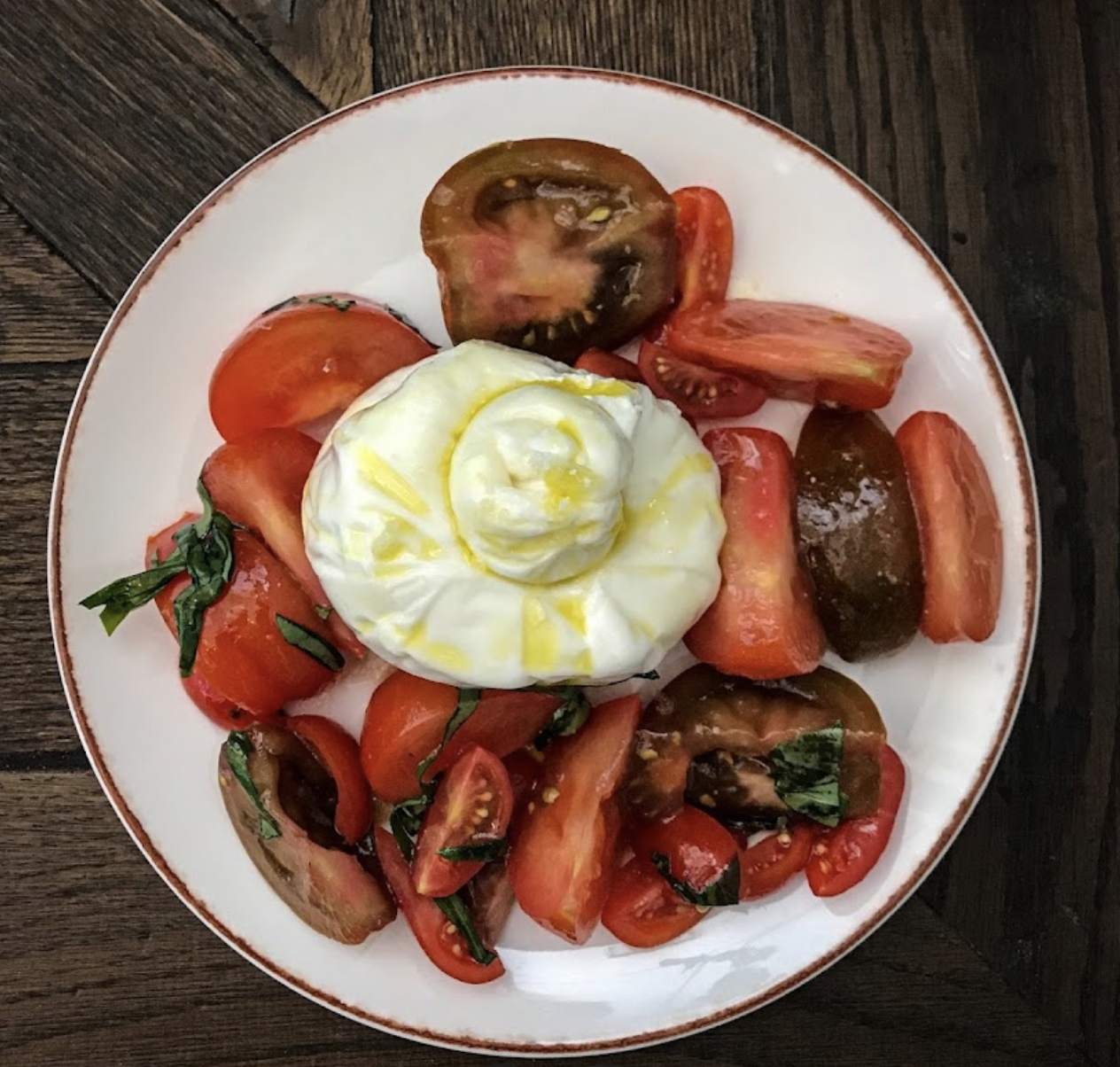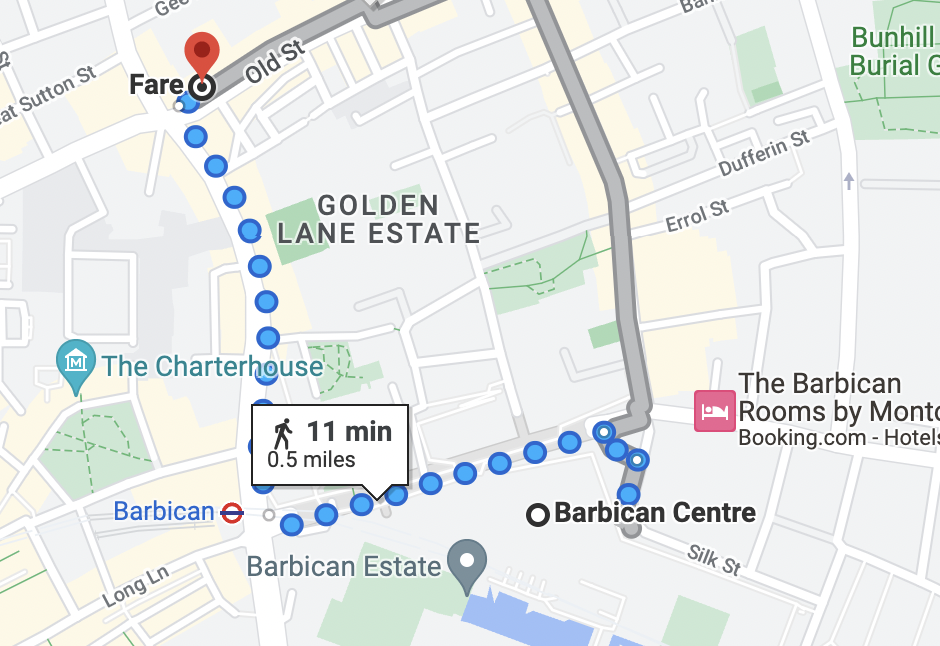 Where: 11 Old St, London EC1V 9HL, United Kingdom Google maps link
The Jugged Hare ($$$)
Gastropub with open kitchen, ceramic-tiled dining room with oak floors, and lots of stuffed animals.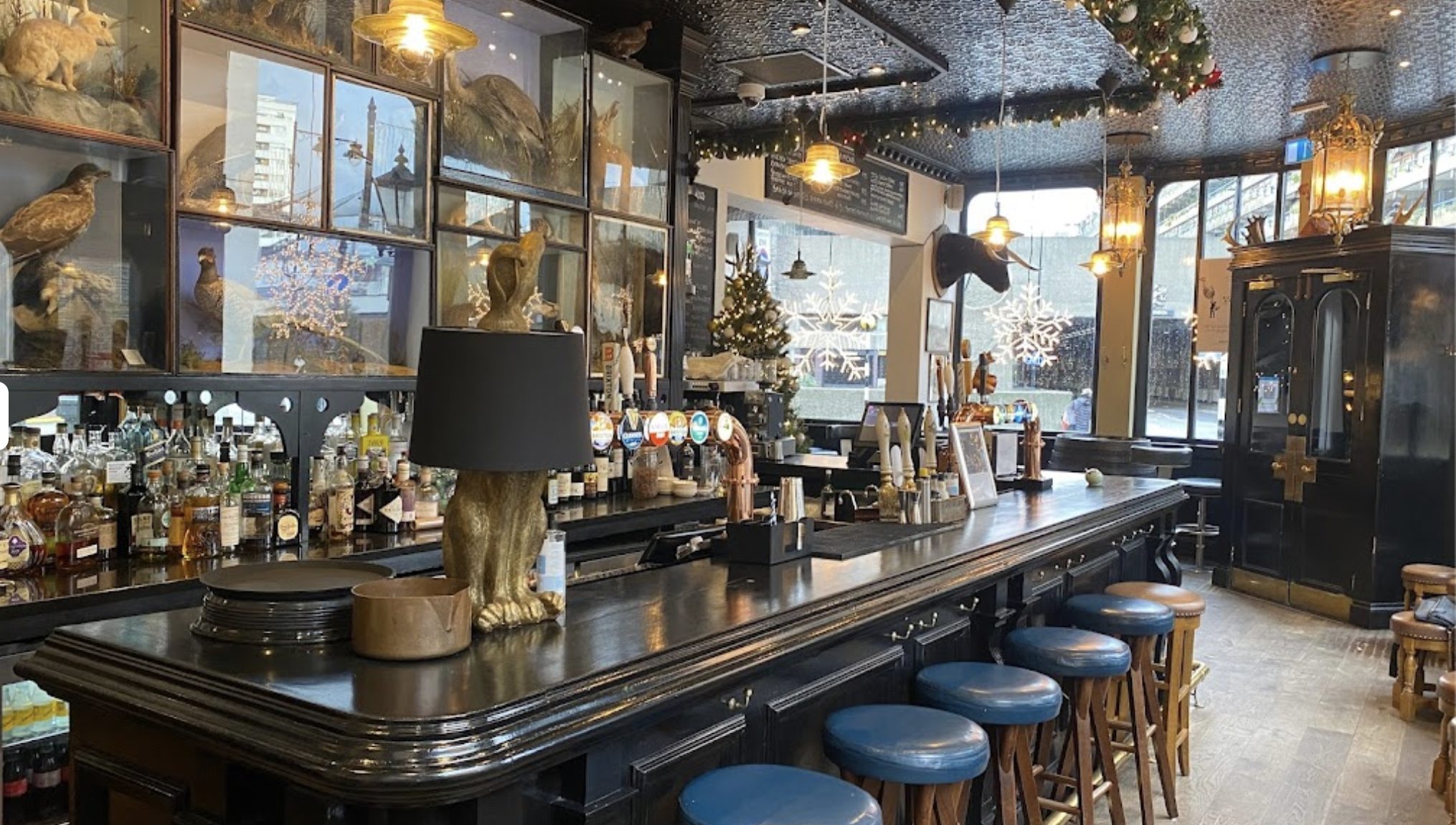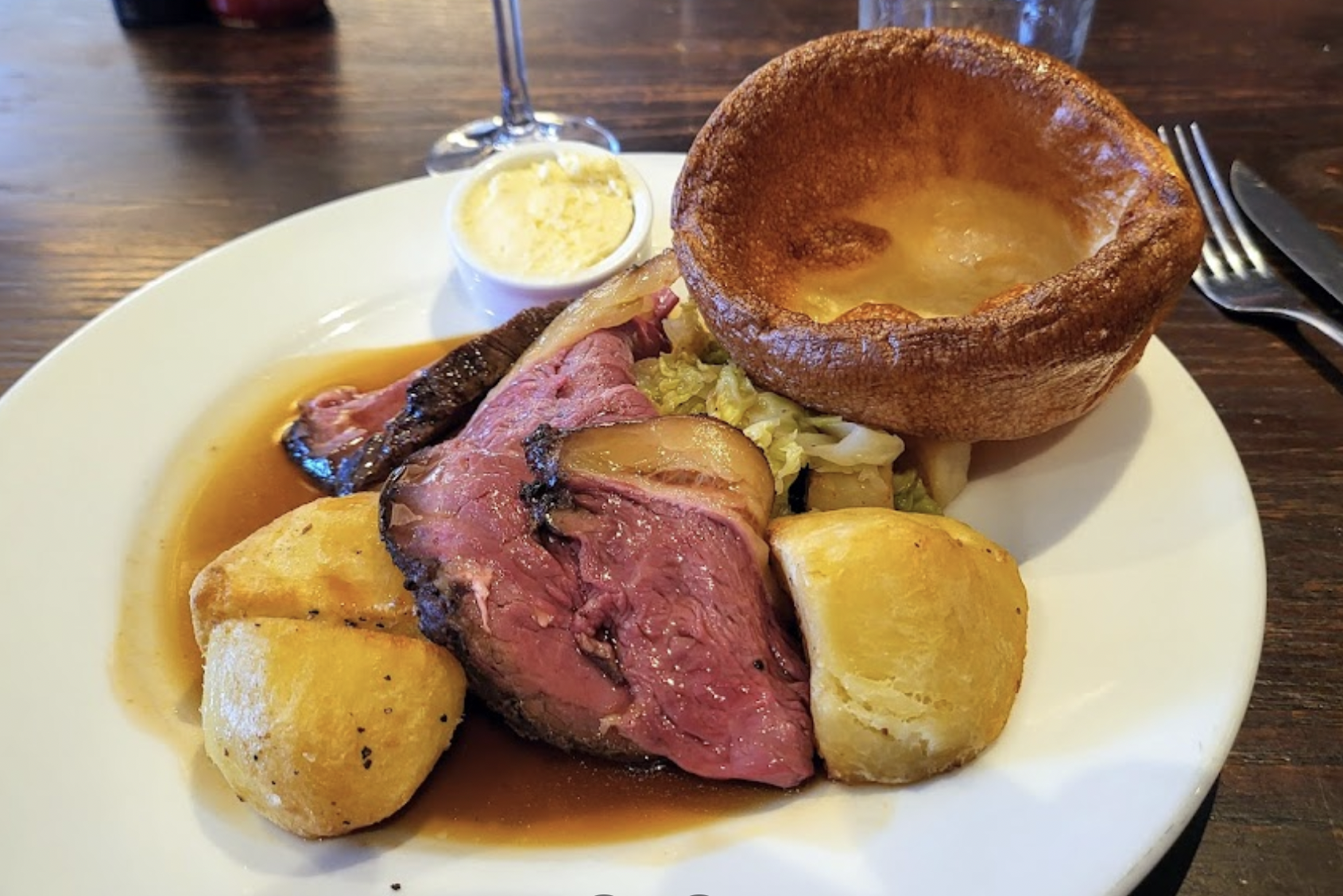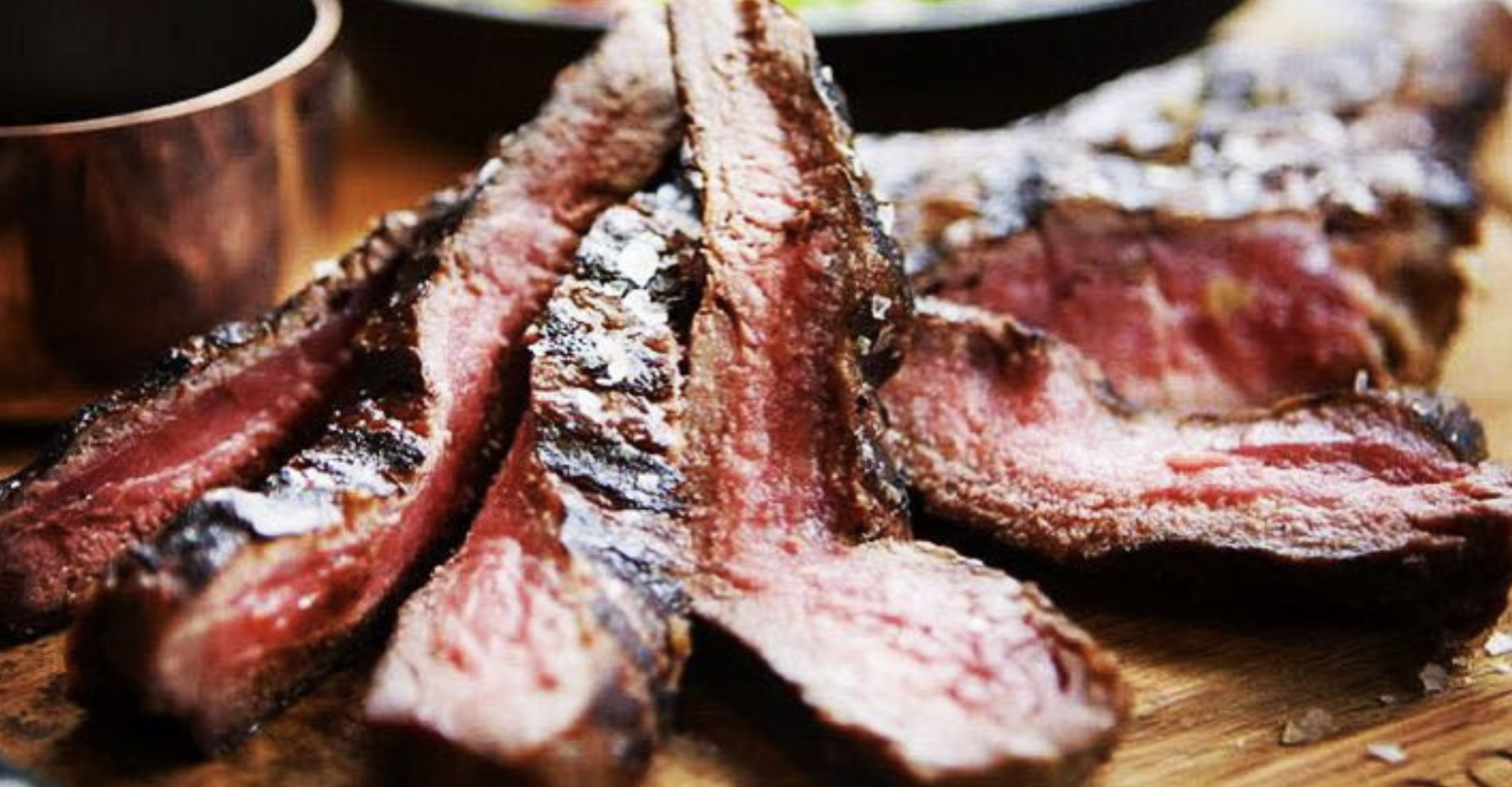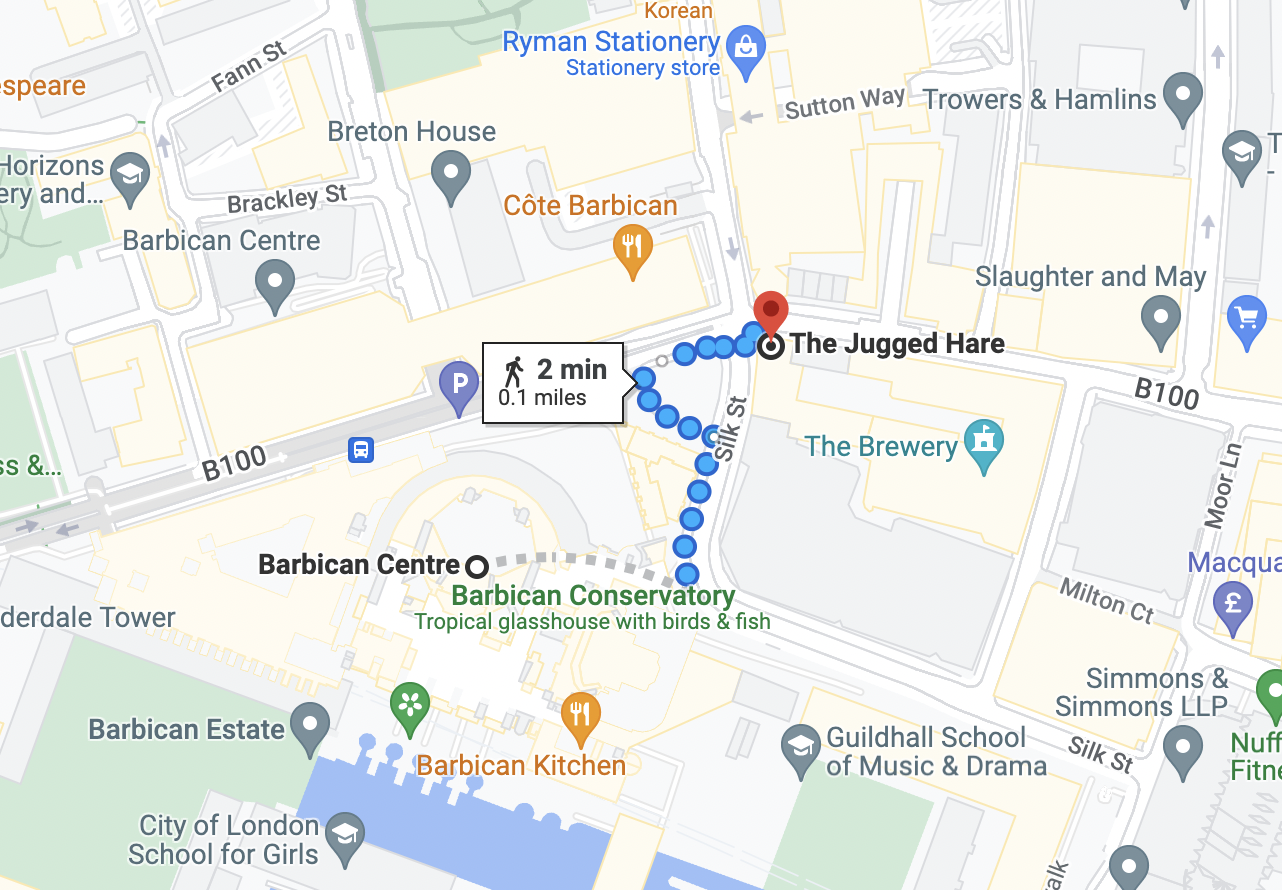 Where: 49 Chiswell St, London EC1Y 4SA, United Kingdom Google maps link
There are several ways to reach London depending on where you are coming from, but planes and trains are the most common.
If you're planning on coming by plane:
Here is a list of airports near London:
Heathrow (LHR)
Gatwick (LGW)
Stansted (STN)
Luton (LTN)
City (LCY)
Southend (SEN)
Most of those airports are 1h away from the Barbican Centre by public transport, when London City Airport is ~ 35 min distance and Southend is ~ 1,5h. Heathrow and Gatwick are the two most common airports for international flights. If you fly Ryanair you will be landing in Stansted, which is connected to the city by Stansted Express train. And City Airport is the most convenient of all! It's right in London, near the city centre.
Here is some useful information on how to get from those airports into the city:
Note that travel times are often elevated in September. We highly recommend following the directions on your plane ticket for how early to arrive at the airport. Expect long lines and flight delays.
If you're planning on coming by train:
The Eurostar is an express train line that goes directly to London from these cities:
Paris
Brussels
Lille
Amsterdam
Rotterdam
For more information and to reserve your tickets, visit Eurostar.com.
COVID-19 Information:
COVID-19 restrictions may be in effect. Please be sure to consult your plane ticket, airline, and national embassy for directions and requirements when entering the United Kingdom. Our ProductCon London event will follow the latest government recommendations surrounding the prevention of COVID-19.