Once upon a time, there was a man named Mark who was prompt and efficient when it came to programming but Mark didn't know how to reach out to his dream product-based companies to get a software engineering job. All he could do was go to his local career counseling center or wander door to door to see if a vacancy was open. Unfortunately, Mark couldn't land a job as a software engineer in his dream company. Still, you can if you take advantage of the internet wisely and dirty your hands by researching well about your targetted company. If you're feeling lost here on what is software engineering, you can take a look at this Introduction to Software Engineering.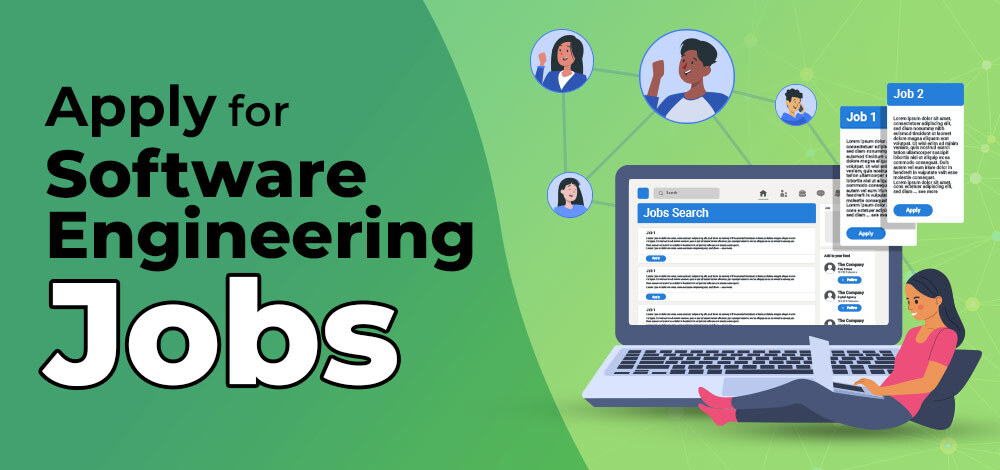 Recent hiring studies show that software engineers are among the top positions companies are hiring for, with their job outlook projected to grow 22% by 2030. So, if you're a software engineer looking for a job but don't know how and where to apply – you're at the right place.
There are 4 simple ways to apply for a software engineering job online and offline:
Through LinkedIn
In-person networking
Getting referrals
Career fairs /recruiting contests
 
You can utilize one of these 4 strategies to boost your job search chances or mix these 4 strategies to land job interviews in top tech companies. In this article, we're going to talk about how you can get a Software Engineer position in your dream tech company using these 4 sought-after strategies used by ace candidates:
1. LinkedIn
If you're looking for a software engineer job in a small to medium-sized company, then definitely go for LinkedIn as your choice of professional platform. In today's job market, Linkedin has established itself as one of the hottest job market platforms in the world and it has boomed post-pandemic.
You can create a job alert on LinkedIn by searching the term "Software Engineer" and putting your location to get job alerts whenever some company posts a hiring post. To effectively land a job interview, you need to reach out to recruiters of the targetted companies of your choice. Send a connection request with a custom message that showcases your interest in the company while telling them about your skills that is relevant to the job post.
Before sending a connection request, ensure that your LinkedIn profile is updated with targeted keywords relevant to your job role, and your portfolio is attached in the featured section. You should attach your GitHub portfolio in the custom message to recruiters also.
You can attach your updated resume along with the portfolio to them so they can get a better idea about your skills and if you're qualified for the role or not. After following these steps, you might get a few replies if they find your profile suitable for the software engineer role you applied for
 
If you don't receive a reply, send them a follow-up message and ask if they can tell you where you lack and how to improve your skills, so you can apply once again with the required skillset. This will put a good impression on the recruiters and also make some good industry connections while you're at it.
2. Networking
Making connections online is not the only way to grab an opportunity to get a software engineering job role. Making industry connections face-to-face can make lifelong friendships and open doors that you could never have imagined before.
You can join your local meetup or join an online event that can give you some insight into the latest trend going on in the software engineering industry. You can check local software engineers' meetup events on meetup.com or Facebook groups
 
While you're at such events, make sure you interact with people individually and share your learnings and learn something from them. Ask them questions about the industry and quench your curiosity thirst with their help.
In this way, you might get to land a software engineering job opportunity through connections which brought us to our next option, i.e., Referral.
3. Referrals
Referrals are a big help when it comes to getting an interview opportunity directly without waiting in the queue with thousands of other candidates. If you want a direct entry pass to an interview opportunity, ask for a referral from your friend or family member or even relative who is working with the company you're seeking the job in. However, the best type of referral is from an employee from the same company. 
One recruiter study says that employee referrals follow internal hires on the list of top-rated hiring sources. Job boards are third on the list. While one other reports that employee referrals are four times more likely to receive a job offer.
So How do Actually Ask For a Referral?
Use LinkedIn: Begin by searching LinkedIn for contacts at the company. Search by company name, then select the company of interest. You'll see a list of people in your network who can help. Reach out to non-recruiters first since recruiters at large companies are inundated with messages and may not open yours, so it's preferable to reach out through an internal employee. Make sure the message is personalized, and don't bother them with referral requests in the initial message. Solicit their advice and share your knowledge. Instead of just asking them to "pick their brain," you should ask them a particular question.
Check With Your College Career or Alumni Office: If you're a college graduate, check with your college career office or with your professor to check if there are any alumni who can put you in touch with those who work at the company you're interested in.
Ask Your Network: Whether you're employed, and you obviously want to proceed with caution, ask your friends and professional contacts if they know someone inside the firm who could assist. Be open and honest with them, and lay out your options for how they can assist you. However, there is no guarantee that you will obtain a reference since if they cannot attest to the quality of your work, they may be unwilling to put themselves on the line for you. As a result, it's courteous to provide someone with a way out without embarrassing yourself or them.
If these strategies don't work, you can still go to career fairs or attend recruiting contests like hackathons or Job-A-Thon series.
 To know more, refer to the article How to Ask For a Referral For a Job?
4. Career Fairs /Recruiting contest
Go to career fairs and events organized by universities as big companies and even small-scale companies come at such events for mass recruitment like TCS and other service-based companies. If you're not a new graduate, you can still attend such fairs as they are open to the public. Many organization also holds competitive programming contest, hackathons, and even Job-A-Thons like GeeksforGeeks which runs Job-A-Thon hiring challenges and is open to everyone. 
 
Ace interview in the top service based companies in India with the help of GeeksforGeeks' Complete Test Series for Service-Based Companies. Getting a job as a software engineer in top service based giants like TCS, Wipro, Cognizant, IBM, and others isn't a pipe dream anymore as this course will prepare you for everything and you will be job prepared to answer all interview questions.
Career fairs are somewhat like In-person networking events so you need to network with the hiring camp people who came there to recruit. Bring at least 20 copies of your resume. Ensure that they're proofread and have the right format. If you have any doubt about your resume, create one with the help of GeeksforGeeks' Online Resume Builder. However, if you're an experienced one, you can always join these hackathons to prove your skills. You can check for jobs at GFG Get Hired portal to get in touch with the company directly too.
Final Thoughts
Being a software engineer is a big thing in itself and finding a job is a cakewalk if you know the correct strategies to apply. Go through these 4 options to get ample opportunities from companies of your choice. You can even refer to these articles which can help you with your software engineering journey.
Must Read: How to Become a Software Engineer Without a CS Degree?