We use affiliate links. If you buy something through the links on this page, we may earn a commission at no cost to you. Learn more.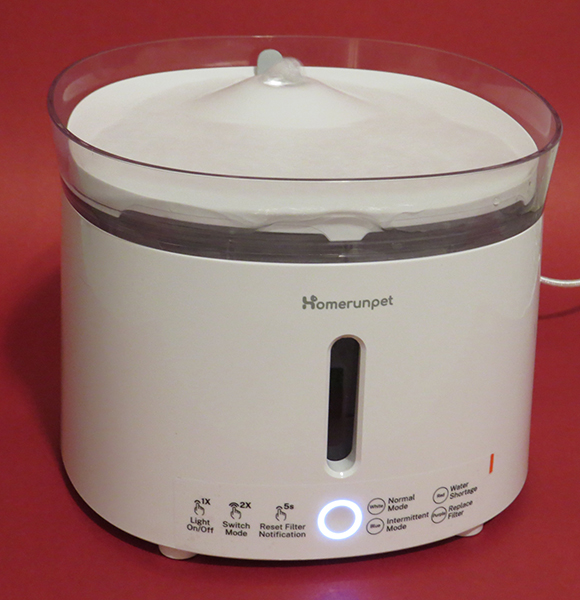 REVIEW – My cats have been happy with a standard water bowl for years, but as they get up in age, I start to worry about their water intake. I've tried fountains in the past, but they get gross easily and are very hard to clean. The easy to clean aspect of the Homerunpet Cat Water Fountain, coupled with my cats turning twelve this month, led me to want to try it out, or rather, led me to have my cats try it out.
What is it?
The Homerunpet Cat Water Fountain with wireless pump is a filtered water fountain for cats that boasts an easy to clean, wireless water pump.
Hardware specs
68 oz water capacity
Wireless water pump
Runs down to 7 oz of water
7.59L" x 7.59W" x 5.86H"

Design and features
My first impression of the Homerunpet Cat Water Fountain was a positive one. I was still perplexed by the wireless water pump, but I scrubbed down each piece and easily put it together. Naturally, I had the water pump facing the wrong way, which was easy to do since you just have to set it down in the little rectangle at the bottom of the water basin.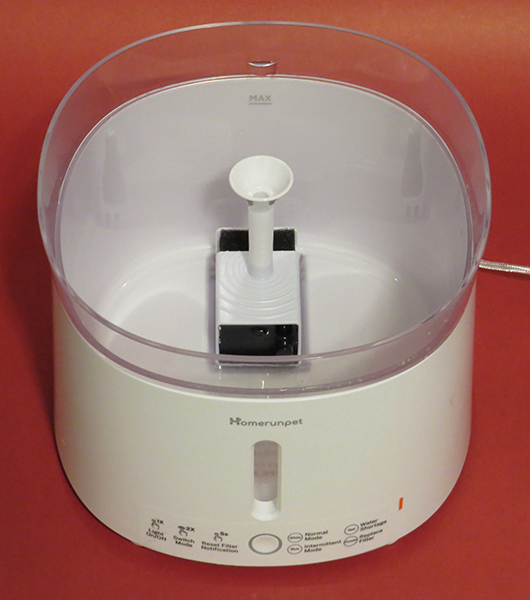 I covered the full basin with the middle, clear piece that holds a filter, then popped the drinking portion on top. It was smart of them to put a little tab on the top piece, as it makes it very easy to pull off when refilling the basin. Refilling the basin, by the way, is as easy as filling up a cup of water in the sink. Set it under the faucet, let it fill to the fill indicator line, and then put the 'lid' on and set it back down on the base. It was very straightforward and easy; just the way I like it.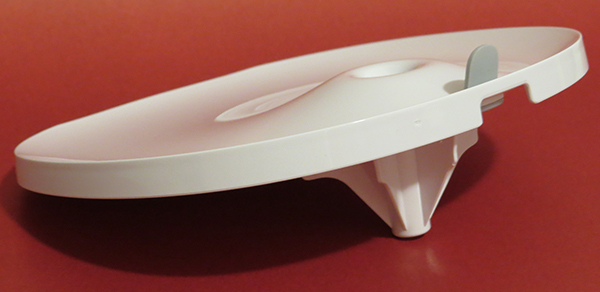 Speaking of the base, it is sturdy enough to hold up to Abbie, who loves to nose against and knock over water basins. I have it on carpet, so the rubber feet do not make much of an impact, but that would also help greatly if it was placed on a hard surface.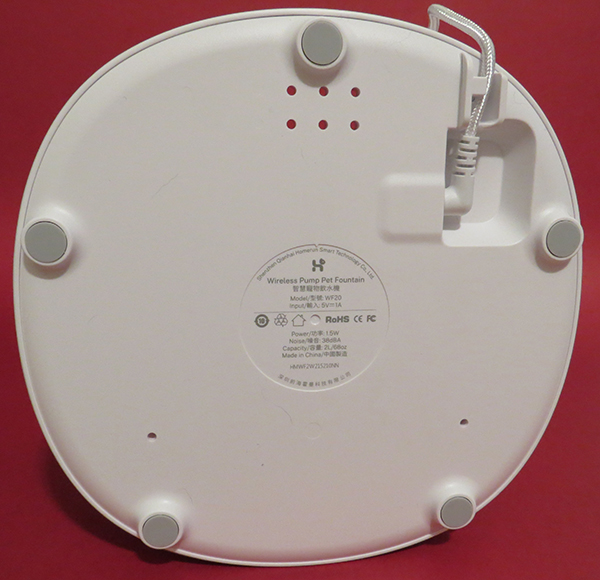 After getting the main section of the Homerunpet Cat Water Fountain set up, I plugged in the base and gently slid the water basin into place. After a brief moment, water started coming up and gently cascading downward. I thought it was nifty. My cats, on the other hand, looked at it as if I had brought a dog into the room.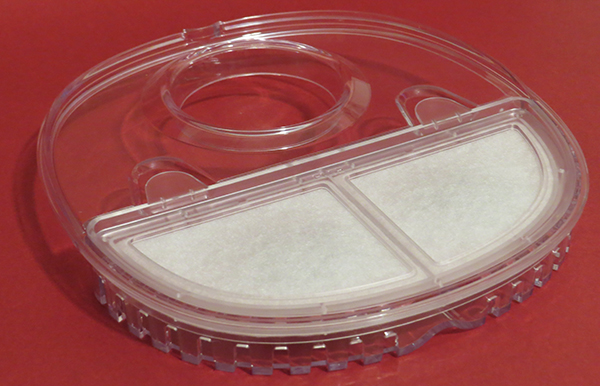 Thankfully, the fear of the unknown only lasted a day. I placed their water bowl next to the Homerunpet water fountain and by the next evening, Abbie was happily drinking straight from the fountain area. Clio followed suit a day later. I left the other water bowl out for a week and they would go back and forth between the two. Once I knew they were comfortable with the fountain, I removed the bowl and let them have it as their main source of water.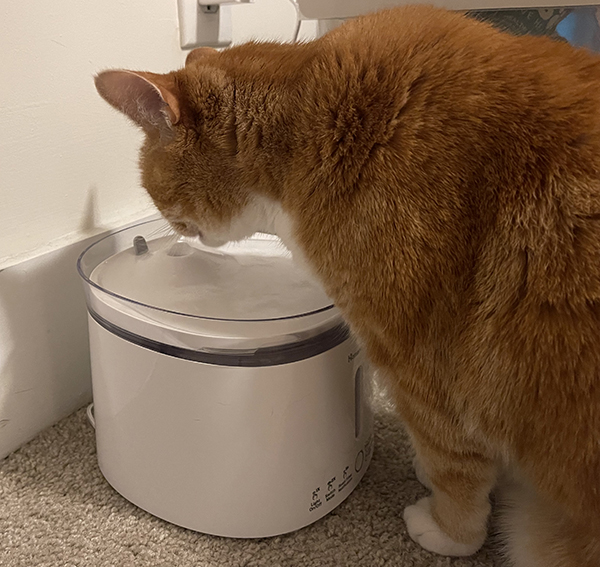 The Homerunpet Cat Water Fountain's basin holds a good amount of water, lasting a good four days before the water starts to gurgle and my cats look at me to refill it. There's an indicator on the base that is supposed to turn red when low on water, but I let it go down very far and it did not turn on despite the water coming out at a trickle. Even so, I can judge how much water is left by looking through the cutout on the front of the basin, so I didn't mind.
With a full tank, the water is nearly silent coming out of the Homerunpet Cat Water Fountain. After two days, roughly half full, I could hear the sound of water dropping, which I mistook for rain a few times. It's not loud by any means, but it is not silent either. If you keep it above half full, you'll have a very silent water fountain.
The real test came when I went to put the old water bowl down alongside the fountain. Which would they prefer? It was no contest; the Homerunpet Cat Water Fountain won. Not once did I see them drink out of the old bowl. That is what really sealed the deal for me. Sure, my cats might drink out of it when it's the only thing available, but when they had options and they very obviously went with the fountain, I felt I couldn't go back to sitting a bowl of water out on a day to day basis. Cleaning the fountain took only slightly longer, so on my end, the change was negligible.
What I like
Very easy to clean
Can see how much water is left
Cats prefer it over a standard water bowl
Decent price
What needs to be improved
Water needs refilled way before the low water light comes on
Final thoughts
Overall, my cats liked the Homerunpet Cat Water Fountain and preferred it over their old bowl. I like that the height is perfect for them, that it is extremely easy to clean, and I feel safe knowing that no wires are touching the water to potentially corrode. At the price point, it is at coupled with how easy it is to clean, I wouldn't hesitate to recommend this to someone looking for a fountain for their cat.
Price: $45.99
Where to buy: Homerunpet Website and Amazon
Source: The sample of this product was provided by Homerunpet.