We use affiliate links. If you buy something through the links on this page, we may earn a commission at no cost to you. Learn more.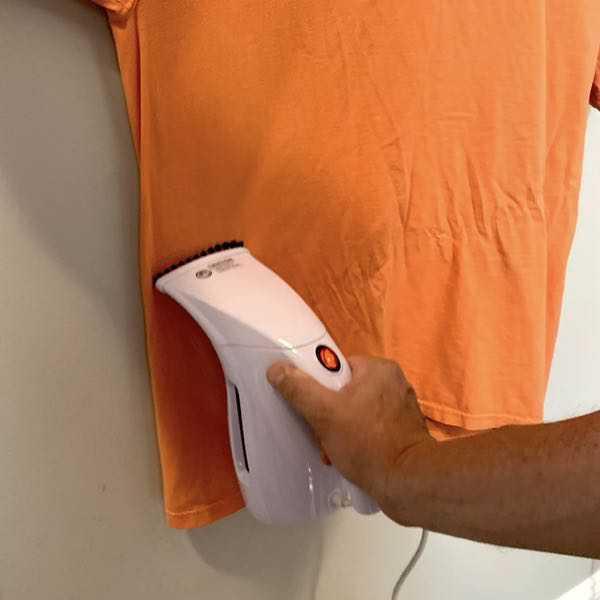 REVIEW – A clothes steamer is one of those utility appliances that you pick up in your journey towards adulting and hold on to for years. With that in mind, I now present the Hilife Clothes Steamer for your consideration. This compact fellow is looking to replace my old (and crusty) clothes steamer that's been around for 10+ years. Does it smooth out the wrinkles? To the review!
What is it?
The Hilife Clothes Steamer is a handheld clothes steamer.
What's in the box?
You'll get the Hilife Clothes Steamer, a measuring cup for filling, and 2 brush attachments.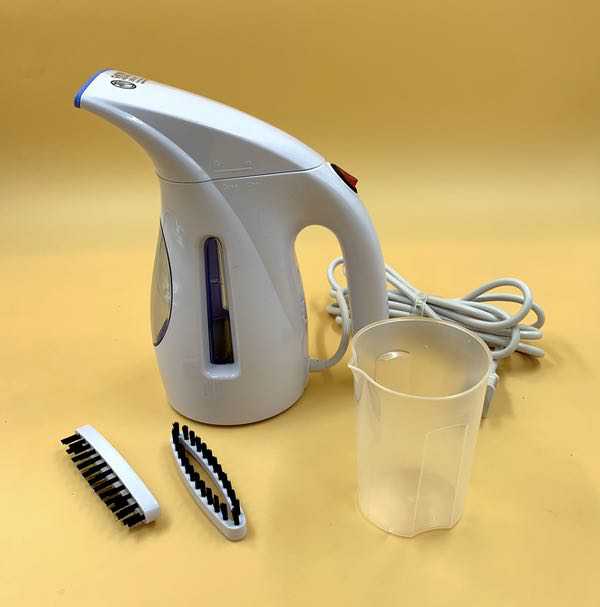 Hardware specs
1.7 pounds
8.5″ tall by 7″ deep (including handle) by 4″ wide
240 ml water capacity with 15 minutes of steam time
700 watts
9 foot power cord
Design and features
The Hilife Clothes Steamer is a stout little appliance. Measuring in at 8″ by 7″ by 4″ and 1.7 pounds, it feels sturdy and substantial despite its small size.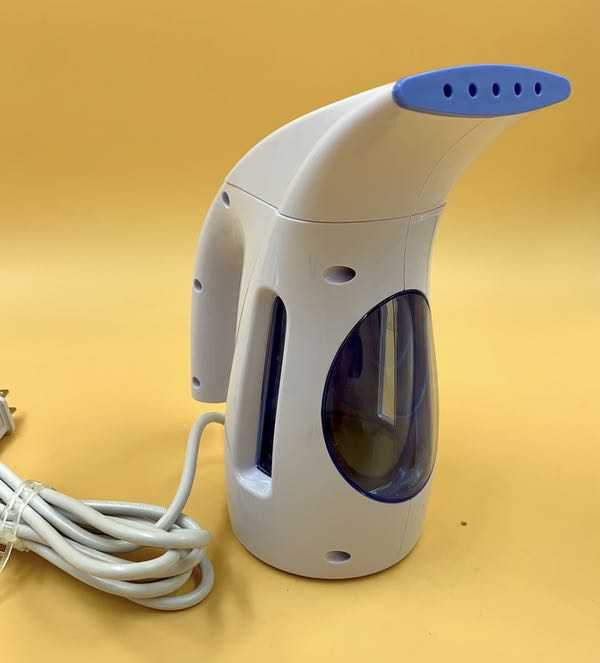 The steamer comes with a generously long 9.2 foot power cord & rubber cable wrap for storage.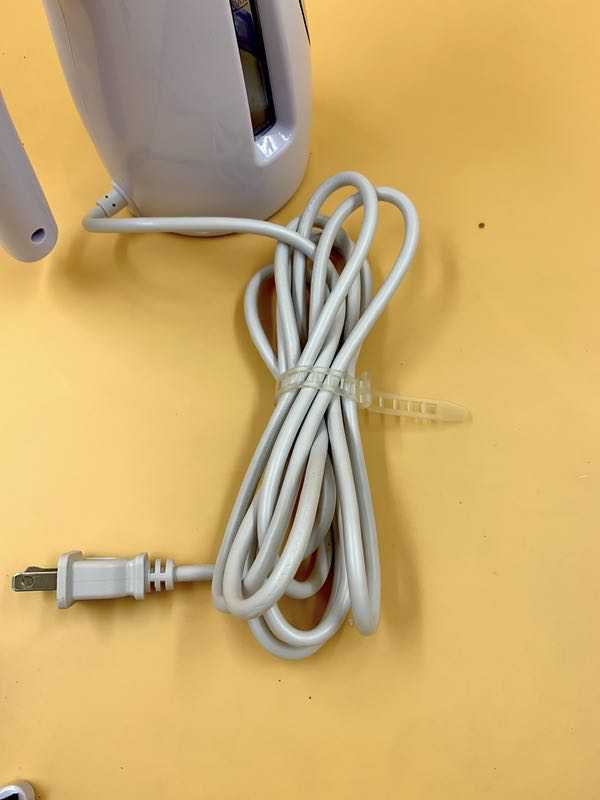 You'll start by filling the chamber with water. There's a measuring cup included with the kit for filling as shown here.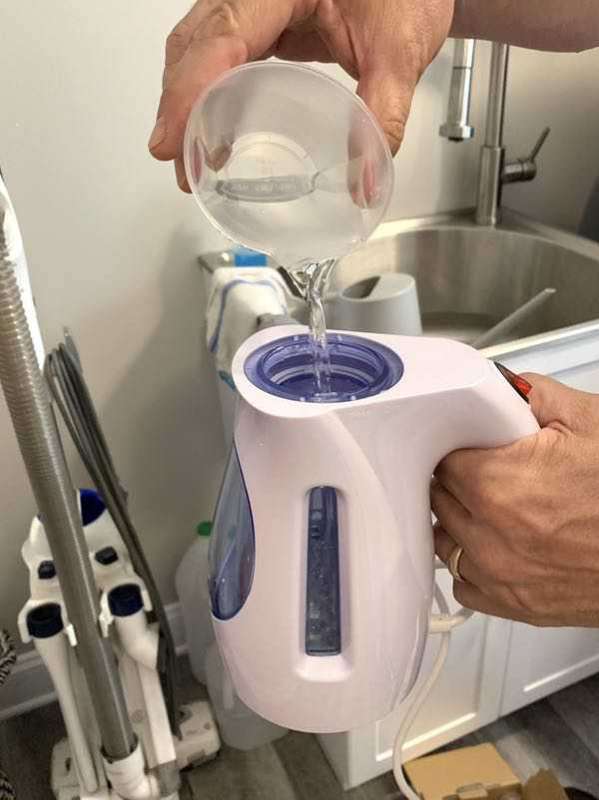 If you misplace your measuring cup, don't sweat it. There's a max fill marker on the side of the chamber so you don't overfill.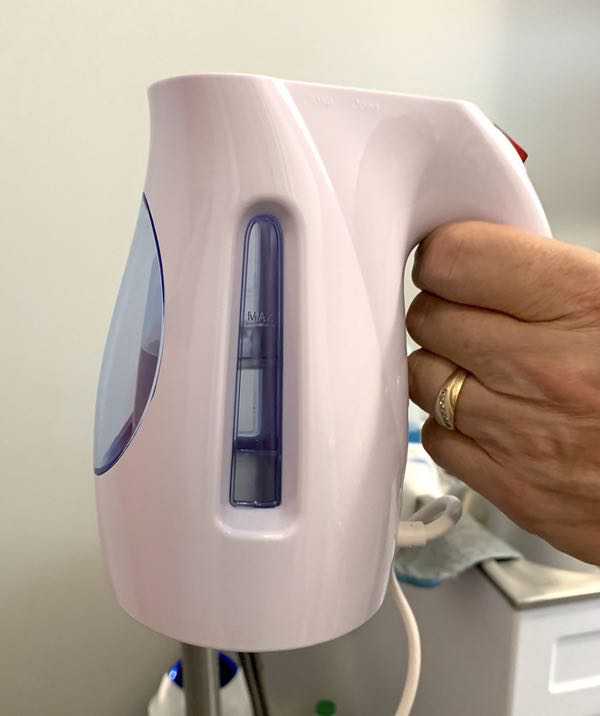 You'll twist the lid on to lock it into place.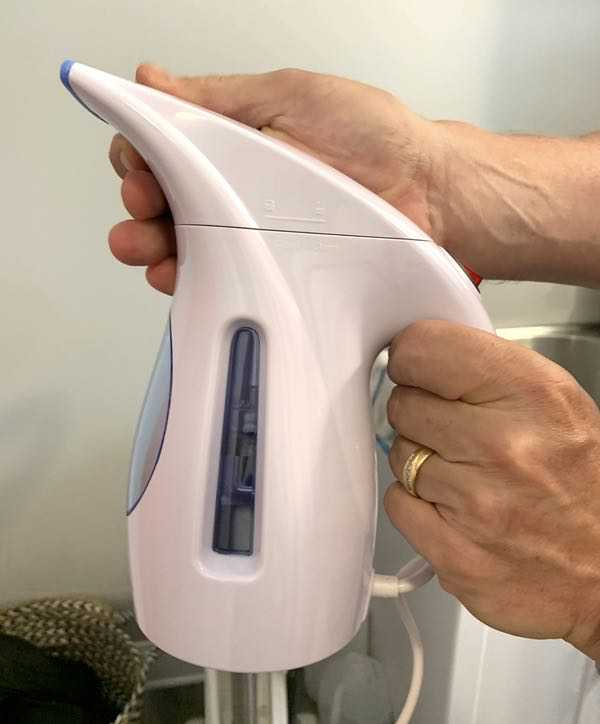 The Hilife Clothes Steamer comes with two brush attachments that snap onto the nozzle. Both are the same; I'm guessing they threw in an extra one in case the first gets damaged or lost. If you're using a brush you'll want to do this before you turn the steamer on. Things are going to get hot real quick!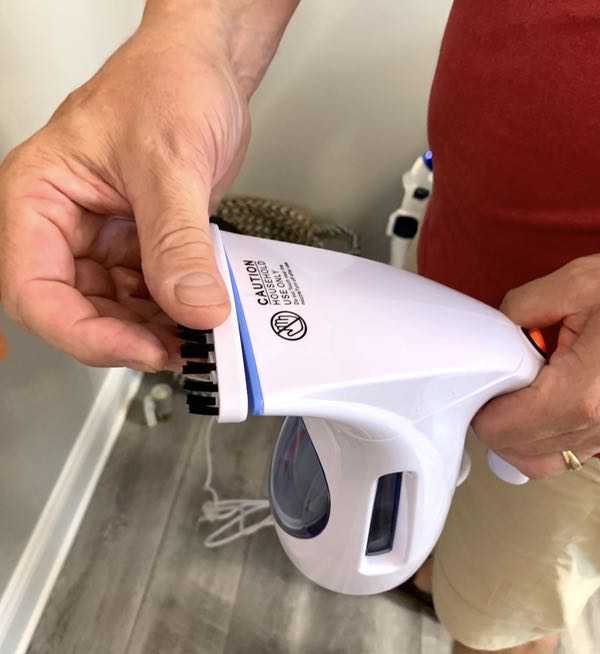 Once you have all that in place you'll flip the power switch, which lights up to indicate that stuff is happening. It takes about 2 minutes for a full chamber to get to boiling so that you can get to work. The Hilife Clothes Steamer has a stable base, so I'd be comfortable putting it on a table or countertop. I have it on the floor here so you can see the full length of the power cord.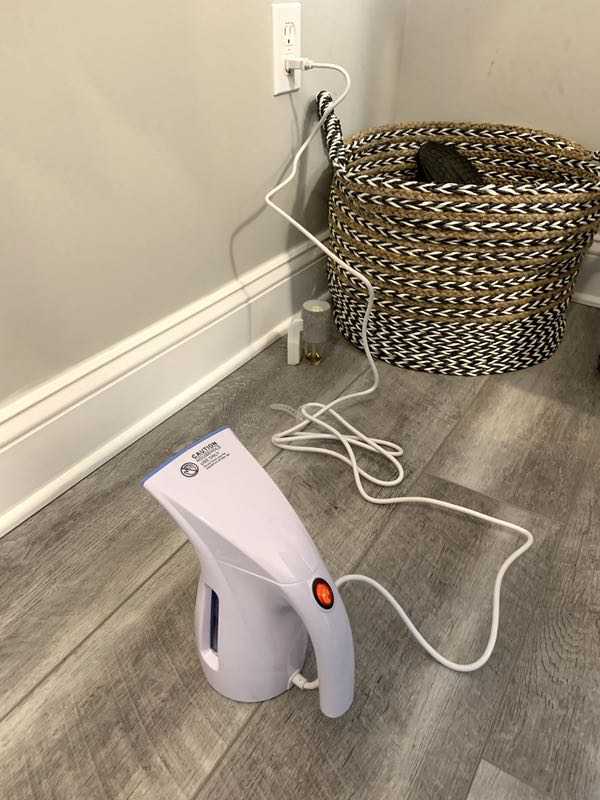 Once you're up to temp and see the steam billowing out, it's time to get to business as we'll see below. This unit will deliver roughly 15 minutes of steam on one complete fill, which I was able to confirm in my tests. That will get you through 4-6 garments by my estimate, depending on the material and how wrinkled they are.
Performance
So my kid, much to his mother's chagrin, dragged a rolled up t-shirt out of the drawer just before we were going out the other night. Note the wrinkles.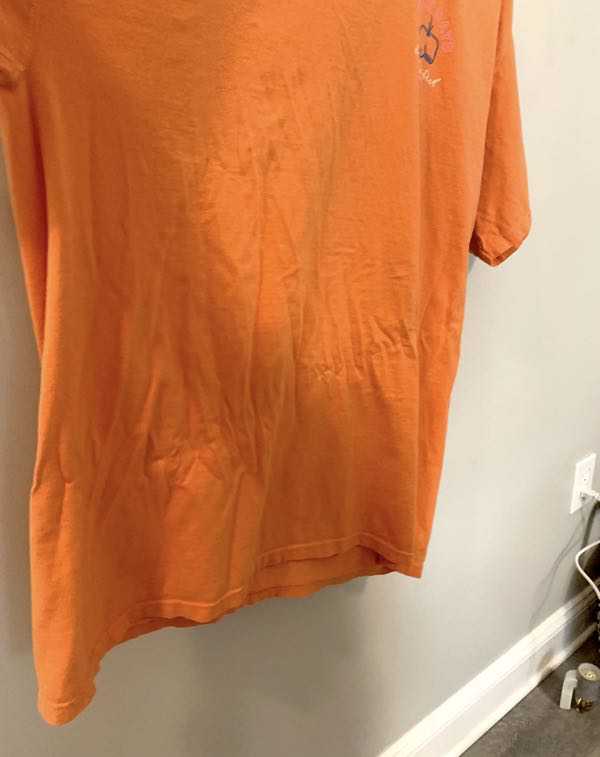 Hilife Clothes Steamer to the rescue! Two minutes to get hot, and we're in business. I really like the compact size of this steamer. It's easy to maneuver around corners and angles on the clothes to be straightened out. Check out the progress on the left hand side in the photo below.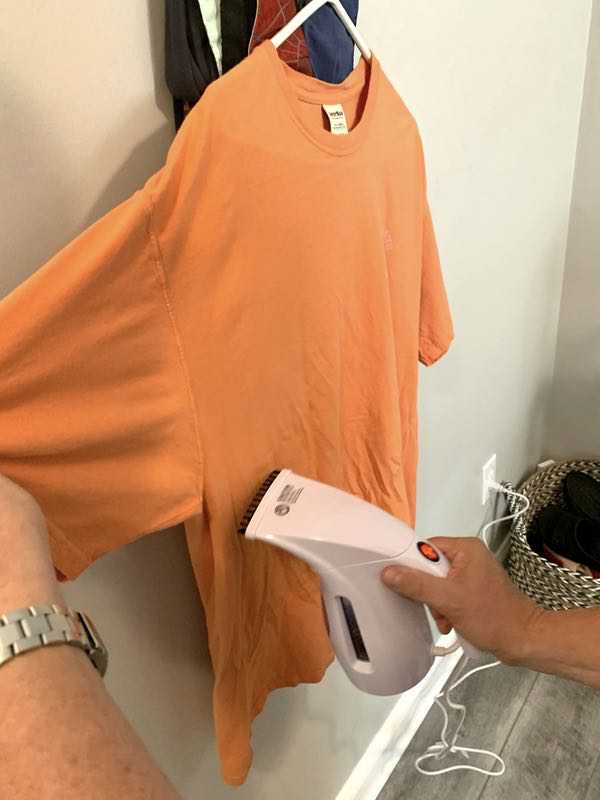 It's also got a nice punch for a small unit. The Hilife Clothes Steamer made short work of this shirt despite the heavy cotton fabric. The handle design makes for a comfortable grip and maneuvering.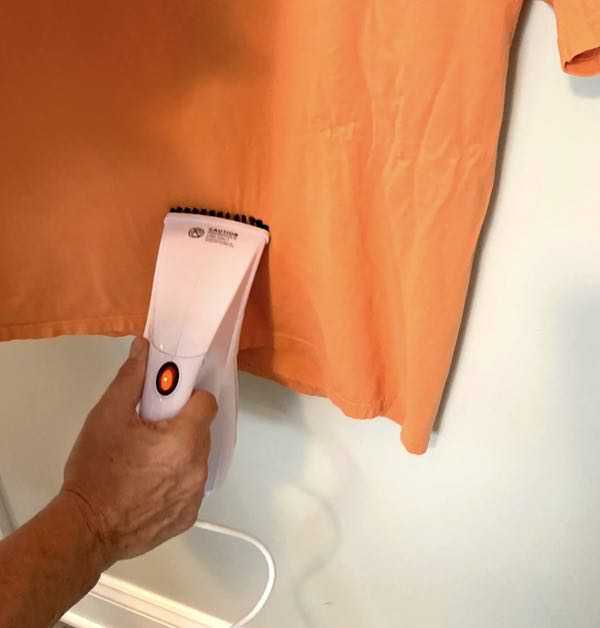 The brush attachment is a mixed bag for me. It does help to smooth out the fabrics, but I also noticed that the brushes collect condensation which can then drop on the garment. This is less of an issue on lighter fabrics that you can steam quickly (like rayon), but I was leaving a trail on this heavy cotton t-shirt. I removed the brush for the follow-up rounds in my testing.
The 9′ long chord is the standout feature here. You can see from the demo pictures that I have plenty of reach to get around the shirt in question. My old clothes steamer had a 6 foot chord that you would think would be no problem… but steaming clothes involves hanging stuff, which means that you're not always right next to an outlet. That can then require some creative gymnastics to get the steamer around the garment while fighting the shorter cord. The extra 3′ of cord here dramatically reduces those issues.
I found that this steamer also works great for steaming curtains. The brush is particularly handy for this application, as is the 9′ cord length.
Hilife does advertise this unit as being great for travel. I don't know that I buy that. It's relatively compact, but not THAT compact. If you've got room in your luggage it will work, but it still takes up a bit of space.
What I like
Compact design is maneuverable and easy to handle
The 9′ cord makes the unit very flexible
Rugged design
What needs to be improved
Nothing that I came across
Final thoughts
The Hilife Clothes Steamer is a solid performer that sent my old clothes steamer into retirement. The compact size makes it great for maneuverability and easy storage, and the 9′ cord makes it very adaptable to different situations. The build is sturdy, and I expect to get years of use out of it. No complaints or reservations about this one!
Price: $29.99
Where to buy: Amazon
Source: The sample of this product was provided by Hilife.