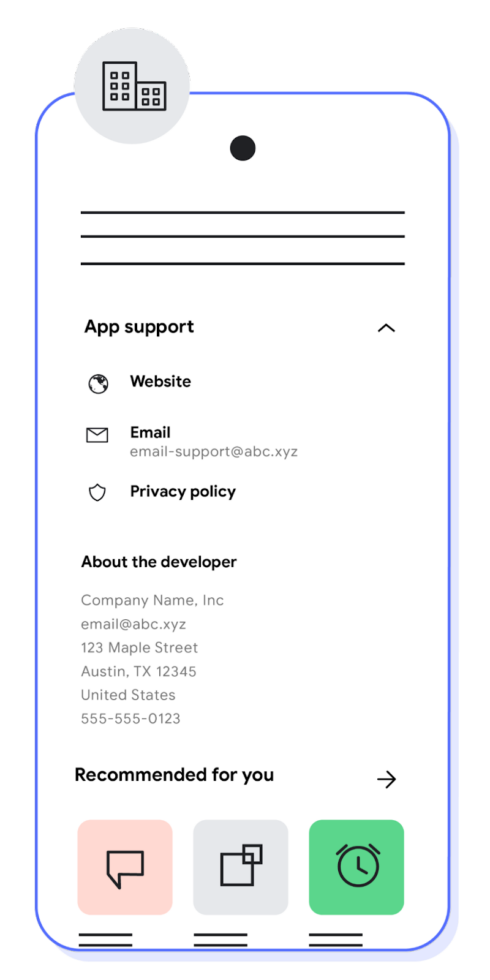 Google is always working to improve privacy and transparency in Google Play so that users can be trustful of the place where they download all their Android apps. To that end, the company has just announced a number of updates, such as expanded developer verification requirements and new policies for developers wishing to offer blockchain-based content in their apps.
Developers will now be required to provide a D-U-N-S number when creating a developer account in the Play Console. D-U-N-S numbers are unique numbers provided by Dun & Bradstreet that are commonly used in verifying businesses. 
Google is also renaming the "Contact details" section in store listings to "App support." In App Support there will be a new section labeled "About the developer" where end users can learn more about the developer of the app they are downloading. Developers can choose to show information like their website or support phone number.  
These new requirements will be in effect starting August 31 for anyone new that is creating Play Console accounts. 
The company is also trying to allow new ways for developers to incorporate blockchain-based content in their apps while still protecting users. 
Any developer including that sort of content in their app must now clearly disclose this and aren't allowed to use language that would "promote or glamorize any potential earning from playing or trading activities."
Developers also can offer NFTs where the value isn't clear at time of purchase, such as with a loot box that contains randomized prizes. 
"We will continue to engage with developers to understand their challenges and opportunities — and how we can best support them in building sustainable businesses using blockchain technology. As a next step, we're talking to industry partners about further improving our support of blockchain-based app experiences, including in areas such as secondary markets," Joseph Mills, group product manager for Google Play, wrote in a blog post.