I've been a heavy user of Twitter over the last decade, and while Musk's
purchase of Twitter hasn't got me running for the exit, it has prompted me
to take a look at possible alternatives should Twitter change into something
no longer worthwhile for me. The obvious alternative is for me to explore
the fediverse with a
Mastodon account. As I explore using Mastodon, I'll make some notes here so
that others can learn from my explorations.
Earlier Memos 

▶
Starting out by following some folks (01 November 2022) 

▶
I spent a bit of time yesterday taking my first steps into the world of Mastodon.
Unlike Twitter, Mastodon is a federated system. So for most people, the first step in using Mastodon is to choose which server to use. In my case, I don't need to make this decision since my colleagues in Thoughtworks have set up our own mastodon instance. An admin for this, Julien Deswaef set me up with an account back in April, when the first rumblings of the Muskover occurred.
My intention at this point is to set up my Mastodon account as an automatic cross-post from my twitter account. That way any Mastodon user can follow me on Mastodon to see my twitter feed rather than do it via Twitter. My thinking is that I'll then monitor my Mastodon followers and if enough followers appear, I'll think about doing something more sophisticated.
One of my first challenges was to figure out how following works, to understand this I needed to get a handle on the nature of Mastodon's federated nature. If I look at an account like Julien's, which is on the same instance as me, then following is easy, I just navigate to his account page and hit the "Follow" button.
But if I do that on an account on mastodon.social, I get this complicated response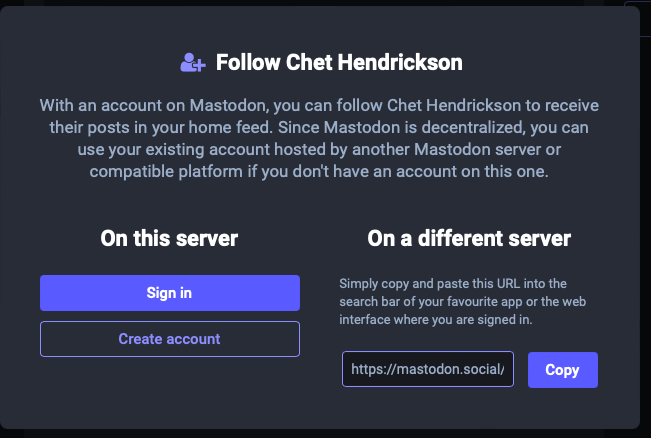 I need to copy that URL, and then paste it into the Search box on my page. I tried that this morning and got no response, which was rather frustrating. Eventually, after asking for help from Julien, I did get it working. We suspect that mastodon.social was under heavy load and just responding too slowly. I've also noticed some times I try searching for a URL of the form https://mastodon.social/@RonJeffries and get no response, but then try to search for @[email protected] and it does work.
Once the remote user showed up, I could just hit the button to follow, but there was still an issue. My new mastodon-friend didn't show up in the list of Follows and Followers, so I tried to follow again and saw this

On reading around I figured out (and Julien confirmed) that this means Ron has set his account up so that he has to approve followers. The hourglass like icon indicates that a follower request has been sent to him, but he hasn't approved it yet. I haven't set that, so if you try to follow me you should get an immediate response.
Local and Federated timelines
When I look at the default UI, I see things that make sense from a Twitter background, such as Notifications and Direct Messages. But I also see two odd things: Local and Federated.
The Local timeline shows every post made by anyone on my own instance. This makes some sense in my case as my local instance has a natural community – we're all employees of Thoughtworks. It makes much less sense if you're on a big instance like mastodon.social. This feature encourages the idea of using lots of small instances rather than a few giant ones. It's a reason for users to look for a smaller community instance rather than just going to a big one, which is why some Mastodon users suggest new people should avoid mastodon.social.
The Federated timeline takes this a step further, it includes all posts on the local timeline and adds all posts by anyone that the local instance follows. Again this may be handy for people with a small community instance, but is less useful for bigger servers.
Reading more documentation
There isn't a huge amount of stuff to act as a guide to Mastodon, and much of what is out there is rather old (as always, check the date when reading about a technology that is rapidly changing). The official documentation is pretty decent. I enjoyed Scott Feeney's discussion of 4 Twitter features Mastodon is better for not having. It provided some insight into the thinking behind some of the differences between how it works compared to twitter.
Latest Memo: Verification on Mastodon
01 November 2022
Twitter has a facility for verifying that well-known people (for Twitter's value of "well-known") can have their account verified. Such accounts are shown with a blue check mark.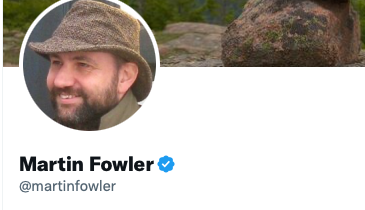 I got my blue check mark several years ago, and don't remember much about it. I don't think I asked for it, I think Twitter approached me. I don't pay anything for it, and I don't remember what they did to verify me. They don't verify everyone, I suppose they did me partly due to having hundreds of thousands of followers, and partly because of being well-known in the software development world.
Due to this rather opaque way of choosing who to give out the blue check marks, Twitter verification has become somewhat fraught. It's often seen as a status symbol. But people who don't have it may have genuine problems with others spoofing them on Twitter.
Mastodon's approach to verification is rather different. Since it's a decentralized system, there's no single mechanism for verification. The way I see it, verification is up to each Mastodon instance. I'm pretty well verified on toot.thoughtworks.com because Thoughtworks is essentially verifying me by allowing me to have an account there. (As it happens, the only way to access an account at toot.thoughtworks.com is to use your corporate login.)
If Mastodon takes off, we could imagine this approach spreading widely. If a journalist at The Economist needed a verified account, then The Economist could run their own Mastodon instance, where anyone on it would be effectively verified by that newspaper. Unlike Twitter, which needs to scale to a vast amount of users, a Mastodon instance can be small enough for the organization running it to verify its members.
On the other hand, big instances like mastodon.social may not do any verification at all, because it's just too complicated for their membership model, or they want to support anonymous accounts. That then becomes part of the choice of an instance – some folks would prefer to join an instance that can give them a viable identity.
There's another approach to verification, which is cross-association with other parts of your web presence. On my home page I have a link to my twitter page, which is a form of verification. It indicates that the web page and the twitter account are controlled by the same user. I verify my email address in a similar way, by mentioning it on my website.
I can do this with Mastodon, of course, but can go a step further. If I include a bit of metadata on my web page, and link to that page on my Mastodon profile, then Mastodon checks for metadata, and marks my link as verified, like this:

Mastodon suggests doing this by adding this link into the body of the page
<a rel="me" href="https://toot.thoughtworks.com/@mfowler">Mastodon</a>

I did it slightly differently, adding this element to the <head> of the page
<link rel="me" href="https://toot.thoughtworks.com/@mfowler">

This mechanism allows me to tie together different bits of my online identity, helping them verify each other
---