We use affiliate links. If you buy something through the links on this page, we may earn a commission at no cost to you. Learn more.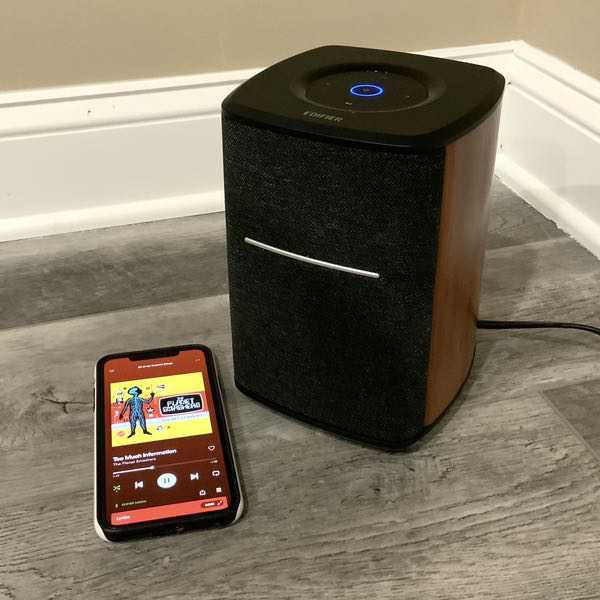 REVIEW – I know about Edifier's reputation for speaker products  (my son has a pair for his turntable), but now I have something new to play with! We're looking at the Edifier WiFi Smart Speaker, which promises powerful sound with Bluetooth and WiFi connectivity. Does it rock? Does it whimper? To the review!
What is it?
The Edifier WiFi Smart Speaker is a WiFi and Bluetooth speaker.
Hardware specs
5.73″ by 5.73″ by 8.32″ tall
5 pounds
Bluetooth 5.0 & WiFi connectivity
Supports Alexa, Apple AirPlay 2 and Spotify Connect
Can be paired for full stereo sound (requires 2 speakers)
Design and features
The Edifier WiFi Smart Speaker sports an attractive (and simple) style, designed to be on display. Black and woodgrain is your color scheme, measuring in at a relatively compact 5.73″ by 5.73″ by 8.32″ tall.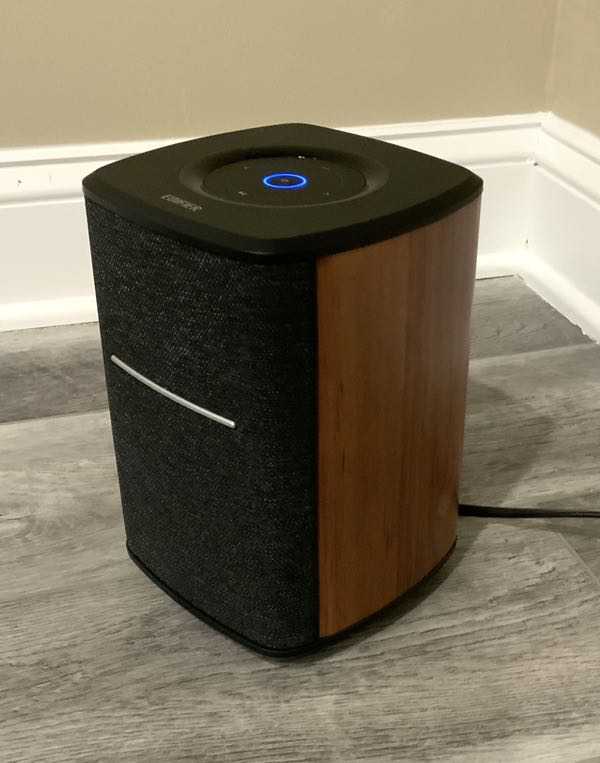 The front face is fabric, while the woodgrain finish runs around the back and sides. The look is clean from all angles, so you can stash this in a corner or set it on full display on an open countertop.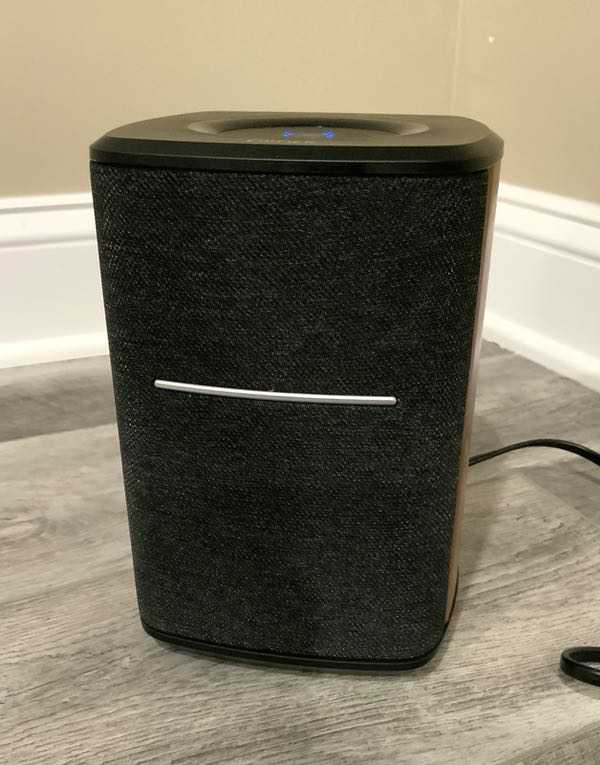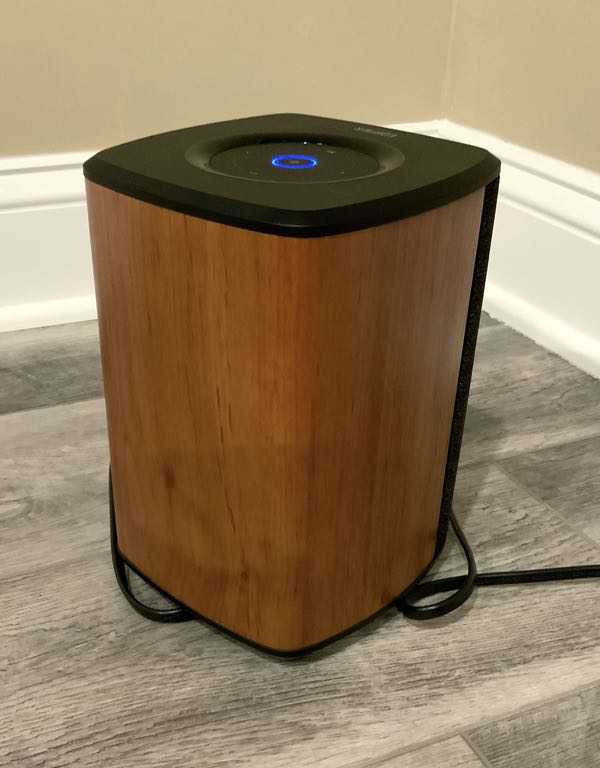 The Edifier WiFi Smart Speaker is not intended to be portable and there's no internal battery. The 6′ long cord gives you plenty of reach to get to the nearest outlet, however.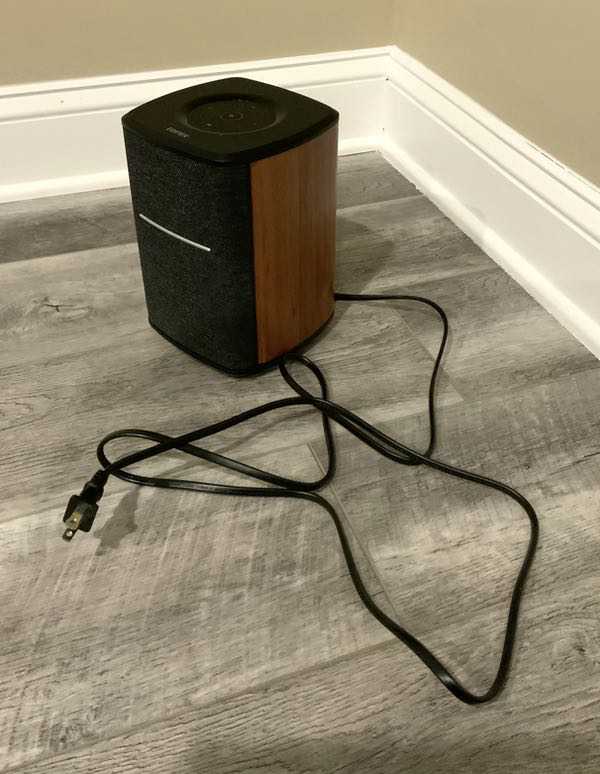 You won't find any alternative ports for audio hookups with this unit. No USB ports, USB-C ports, or aux cable jacks. You also won't find an internal microphone to support voice control or integrated phone calling. It's mission-focused on playing sound through either a Bluetooth or WiFi connection.
Keeping with the mission-focused theme, you'll find that the onboard controls are delightfully simple. All your controls are found on the top of the unit.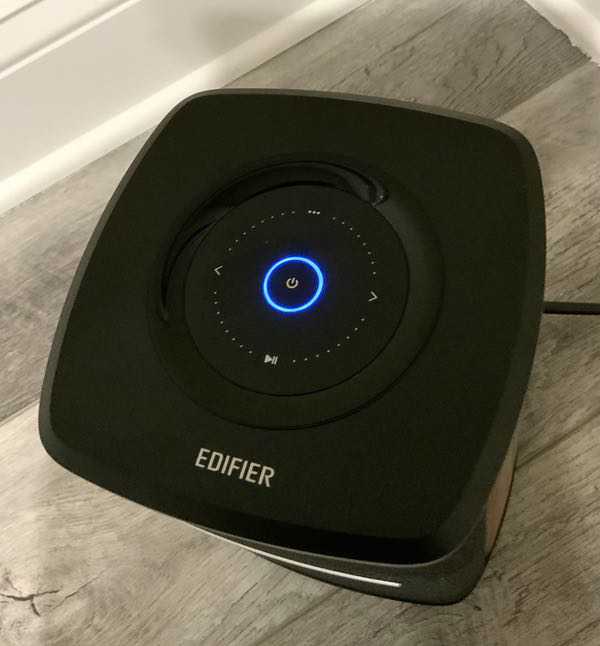 Functions work as follows:
The center power button (the one that is lit up) powers the unit on and off with a 3-second hold. A tap on that button will mute or unmute your audio.
The three dot tap area at the top of the circle "…" toggles between wifi and Bluetooth connection.
The left and right arrows as 3 o'clock and 9 o'clock on the circle toggle next/previous songs.
The play/pause button at the 6 o'clock spot does exactly what you think it does. It can also be held for 6 seconds to reset the speaker to factory settings.
You adjust your volume by dragging your finger around the circle as shown below. If you look closely at my phone you'll see the volume indicator is active. A clockwise movement increases the volume. A counterclockwise movement decreases the volume.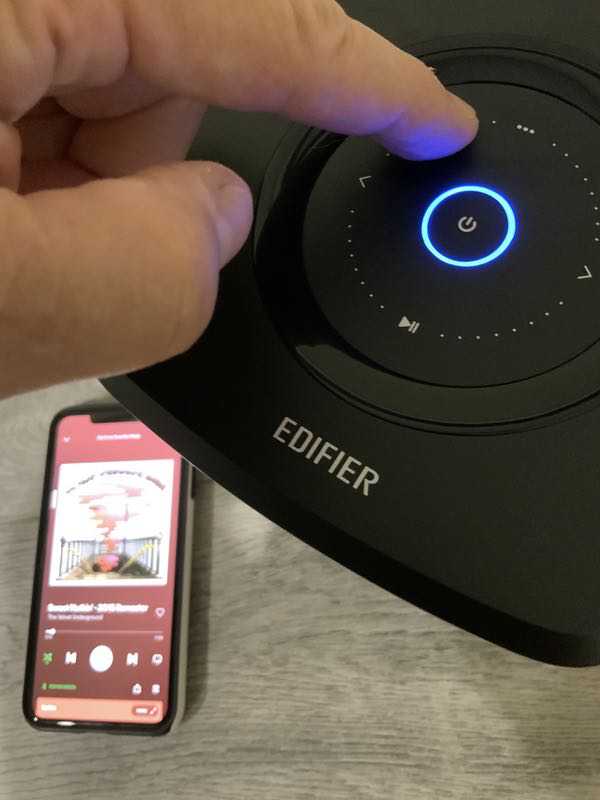 That's the feature set. Simple and uncomplicated.
Setup
I've got good news and bad news on the Edifier WiFi Smart Speaker setup front. The good news is that Bluetooth pairing works like a champ. The bad news is that I could not get the WiFi enabled on my network.
Things start off just fine. You'll download the Edifier Home app, which enables you to connect your speaker as a network device that you can manage with Alexa, Apple Airplay 2, and Spotify content. You'll open up the app and choose to add your device.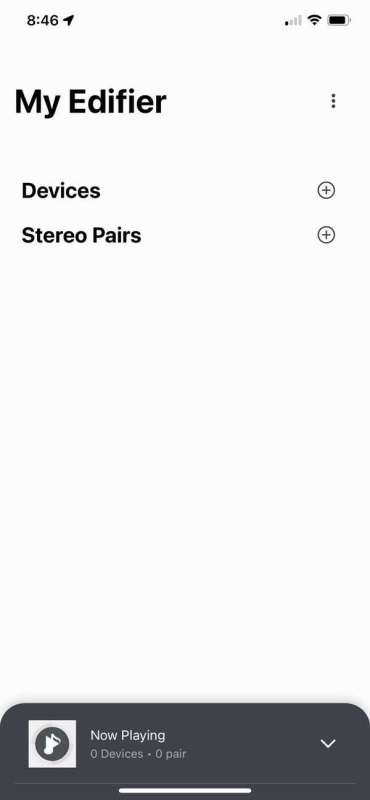 You'll pick your model from the list (we're going for the MS50A here).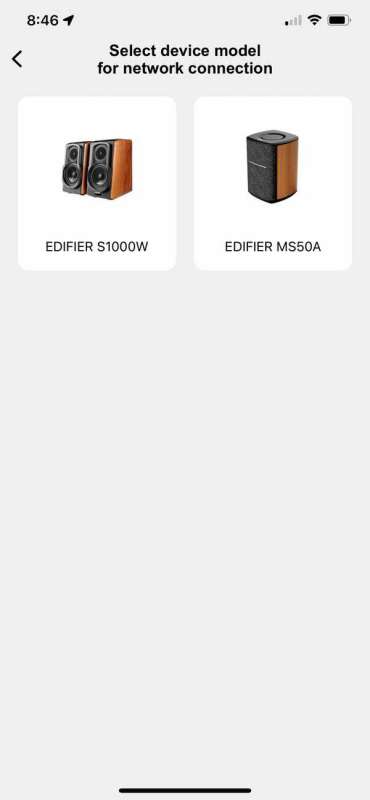 The app seems to find the device to connect pretty quickly. Once I selected the device, I then put in my network info to get the device to configure…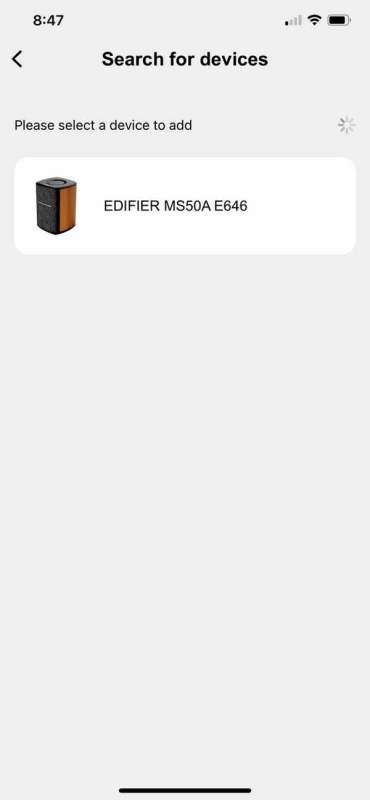 …and then we got stuck here at the "configure audio" screen. Forever.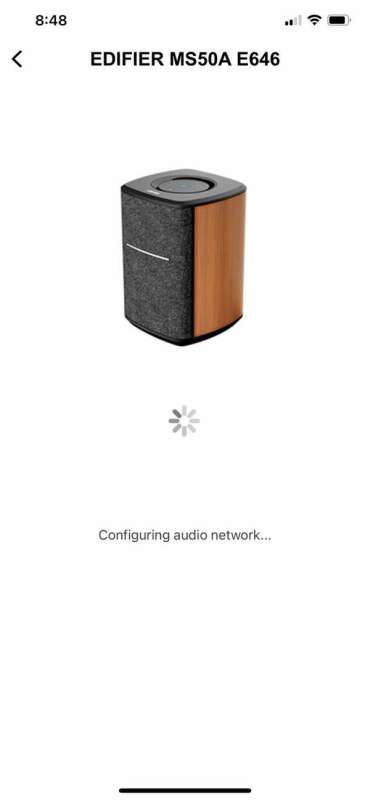 I've done a bunch of research into troubleshooting the issue and tried all of the tricks: resetting my network, changing devices, resetting the speaker to the factory settings, etc. I get nothing.
A bit of additional research tells me that this is not a widespread issue. I see some reports of WiFi connection issues on Amazon reviews, for example, but they are in the minority. It may have something to do with my mesh network overlay, but we have a number of peripherals and appliances that we've connected without any problems. I'll keep poking around to see if I can find a solution.
Performance
The Edifier WiFi Smart Speaker's WiFi issues didn't enable me to test the Alexa/Apple Airplay/Spotify connectivity, which is a bummer. But I can tell you that, despite that setback, the speaker itself is amazing.
The sound projection fits big and small spaces. I have this speaker in our game room most of the time and it will fill the space (15′ by 17′) even on lower volume levels. If I reposition the speaker to the hallway for a party it will fill the first floor. I was also pleasantly surprised to find that I could use the speaker in my 10′ by 10′ home office without it being overpowering in small spaces, delivering consistent sound at even the lowest volumes.
The audio range itself is excellent. The overall sound is sharp and clear with little-to-no distortion at either end of the volume range. The low-end bass is strong (even floor bumping strong if the volume is turned up) and the high-end treble is sharp. It does feel like the tuning is designed for general purpose use so you'll be happy playing rock, pop, rap, & electronic music that emphasizes the extreme ends. The midrange seems to drop out a bit, which may not be ideal for stuff like classical music or movies for audiophiles. The addition of an equalizer would be nice to allow for some fine-tuning there.
Edifier states that the decision to not include a microphone was intentional, and a "security feature" to stop potential listening to your device by third-party apps. Yeah, it will do that. To be honest I don't miss the microphone under any circumstances. I don't use voice activation for Siri through my speakers, and I find managing phone calls through speakers that have that capability to be tedious. It does mean that you'll need your supporting device handy for WiFi controls, however.
What I like
Good looking speaker
Simple operation
Clear, crisp sound quality
Big, rounded sound that will fill larger spaces… but don't overpower small spaces
What needs to be improved
See notes about WiFi connectivity. I had issues with my setup, but they don't seem to be a common problem.
Would love to see an equalizer available to fine-tune audio performance.
Final thoughts
I really like the mission-focused design of the Edifier WiFi Smart Speaker. It's a great looking speaker that brings fantastic sound quality in a simple-to-use package that doesn't overplay features or capabilities that most people probably will never use. I'm good with that.
I also want to emphasize that the WiFi connectivity issue I ran into does not seem to be the norm. I'll keep poking around to try to solve that and update my review here with the results.
Price: $149.99
Where to buy: Amazon
Source: The sample of this product was provided by Edifier.